Jerry Falwell Jr. Says Trump's AG Jeff Sessions 'Should Rot' in Jail Over Russia Investigation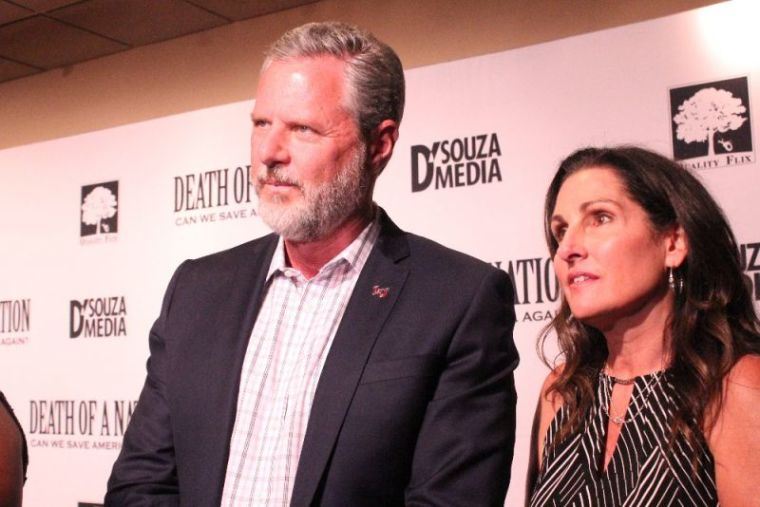 Liberty University President Jerry Falwell Jr. is receiving another round of backlash after he contended that Jeff Sessions, Barack Obama, Hillary Clinton and a several other key figures should be jailed.
Falwell, one of President Trump's most loyal evangelical supporters and leader of one of the largest Christian universities in the country, posted some questionable tweets over the weekend that has led at least one prominent evangelical thinker to call him an "embarrassment."
On Friday, Falwell took to the social media platform to ask if there are "any grownups" with "integrity" still remaining in the Department of Justice.
Stating that he watched "Repubs join Dems" to force former President Richard Nixon out of office in 1974, Falwell asked why "Dems won't join Repubs" to "lock up" former FBI Director James Comey, former Attorney General Loretta Lynch, former U.S. Associate Deputy Attorney General Bruce Ohr, U.S. Deputy Attorney General Rod Rosenstein, former FBI agent Peter Strzok (who was fired Monday over ant-Trump text messages), former Secretary of State and Democratic presidential nominee Clinton, former President Obama and "maybe even" current Attorney General Sessions.
Falwell's tweet came over a week after he called Sessions a "phony" because he hasn't halted the the special counsel's investigation into Russian interference in the 2016 election.
Falwell, who has become known for his staunch support of the president, received a response from Congressman Ted Lieu, D-Calif., on Sunday.
"Dear @JerryFalwellJr: The people who have decided not to prosecute the folks listed in your tweet are: [Attorney General] Sessions, Deputy [Attorney General] Rosenstein, FBI Director Christopher Wray. All of them happen to be Republicans & were nominated by @realDonaldTrump & confirmed by GOP controlled Senate."
Falwell shot back.
"Yep and I think they deceived @realDonaldTrump into appointing them," Falwell tweeted. "They should rot in the same jail."
Lieu responded by saying that the law enforcement officials he mentioned all "have access to witness statements, documents, and other evidence that you do not have."
"I trust @FBI Director Christopher Wray, who has a sterling record and also happens to be a Republican," Lieu said. "I hope you can trust him too."
Falwell's response to Lieu drew the ire of Pete Wehner, a senior fellow at the center-right Ethics & Public Policy Center think tank in Washington, D.C. who worked in both the Reagan and George W. Bush administrations. Wehner has been a prominent conservative critic of Trump's since the 2016 Republican presidential primary.
"Jerry Falwell Jr. is president of one of the world's largest Christian universities. The way he's conducted himself is disgraceful/an embarrassment to Liberty University," Wehner wrote in a tweet. "Far more troubling: He's discrediting evangelical Christianity to a watching world."
National Review's Jonah Goldberg also weighed in with a tweet saying that Falwell "is a crazy person."
National Review's Ramesh Ponnuru quipped, "Might be quicker for you to share a list of political figures you dislike but don't want law enforcement to go after." 
Falwell also authored a tweet Sunday attempting to defend the president's "mental facilities."
"A friend texted that the media is claiming @realDonaldTrump is losing his mental facilities. I talk to him every few weeks and we are always shocked how sharp he is," Falwell said. "When I called him last week, he said 'did the Lynchburg floods hit LU' before I even said this is Jerry Falwell."
Falwell then blamed "the media" for his misspelling of "faculties" as "facilities."
By midday Monday, he deleted those tweets. See a screengrab here.
Earlier this month, Falwell appeared at the Washington, D.C. screening of conservative filmmaker Dinesh D'Souza's new movie "Death of Nation," which compared Trump to Abraham Lincoln and draws linkages between the modern-day political left and fascist Nazi Germany.
Falwell told reporters from the red carpet that in every election from here on out, he will support political outsiders like Trump.
Last year, Falwell called on evangelical Christians to join in on the "war" against establishment Republicans that was launched by Breitbart's Steve Bannon. Bannon, who espouses populist and economic nationalist views, formerly served as the White House chief strategist before stepping down last year.
"Don't look at a candidate on whether he has the same religious background as you do. Don't look at whether he or she fit to be the pastor of your church. Look at who's going to vote right on the issues," Falwell said in an interview with Breitbart last October. "Look at who's actually succeeded in real life outside of the political world. That's who they need to vote for. It may not be the most conservative candidate. But it's got to be somebody who's not part of the establishment and has succeeded in real life."
Students and staff in Liberty University's film department worked this year on an upcoming film called "The Trump Prophecy" that will be shown in theatres nationwide in October.