'Jesus Christ Superstar' Coming to Television
'Jesus Christ Superstar' Coming to Television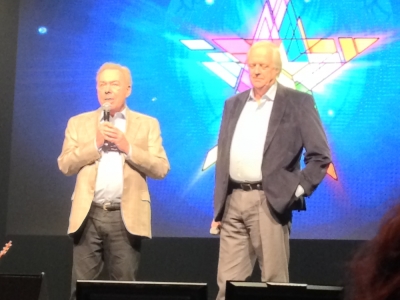 "Jesus Christ Superstar" is coming to the small screen.
Just in time for Easter next year, Deadline is reporting that NBC will broadcast the '70s Broadway rock opera, created by Andrew Lloyd Webber and Tim Rice, who will executive produce the live musical. Over the past four years, NBC has focused on bringing live musicals to the masses with last year's "The Passion" featuring Tyler Perry, "The Wiz Live!" starring R&B star Ne-Yo in 2015, "Peter Pan Live!" in 2014 and "The Sound of Music Live!" starring Carrie Underwood in 2013.
"Jesus Christ Superstar" is the musical interpretation of Christ's last days from the perspective of his betrayer, Judas Iscariot. While casting has just begun for the live musical scheduled to debut in 2018, NBC Chairman Robert Greenblatt revealed that they are seeking to add recording artists to the production.
"As we continue to expand the profile of our live musicals, we are thrilled to be partnering with Andrew Lloyd Webber and Tim Rice to bring a new live staging of the iconic Jesus Christ Superstar to NBC," said Greenblatt, according to Deadline. "Casting has just begun, but we want to fill out this classic show with as many recording artists as possible to give proper voice to what is the original rock opera score."
In 2014, "Jesus Christ Superstar" was gearing up for a 50-city arena tour. The cast featured gospel singer Michelle Williams formerly from Destiny's Child who would have played Mary Magdalene; J.C. Chasez formerly of 'NSync as Pontius Pilate; British actor Ben Forster as Jesus Christ; and Brandon Boyd of Incubus as Judas Iscariot.
Despite the star-studded cast, the show was canceled due to low ticket sales. The tour's promoter, Michael Cohl, released a statement about the cancellation which was obtained by The New York Times.
"It became obvious the shows were in trouble, but we tried until the last moment to give it every chance to turn around," Cohl said. "In the end, it just did not make business sense to continue, and we didn't want the cast to endure playing to disappointing audiences."
Fans of the show will get another opportunity to see it come alive on NBC April 1, 2018.