Jewish CNN Host Jake Tapper Rebukes Pastor Greg Locke With Scripture for Calling Stormy Daniels a 'Hooker'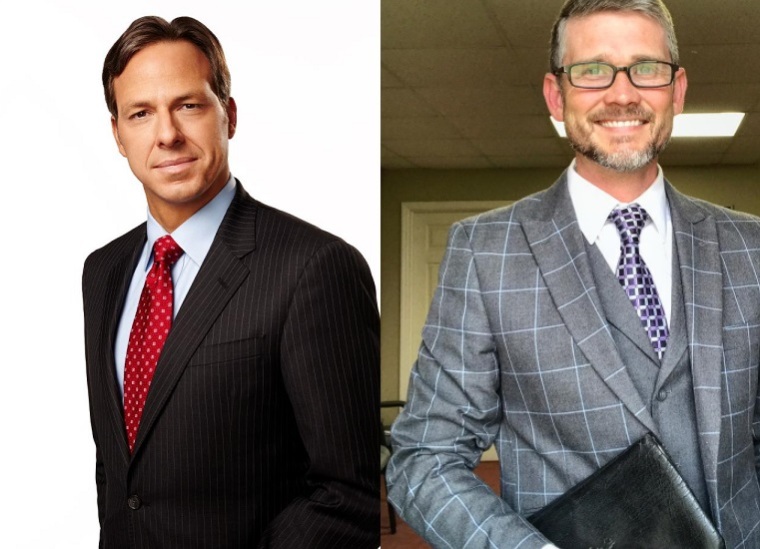 Jewish CNN host Jake Tapper rebuked controversial internet preacher Greg Locke with the gospel of Luke Monday for dismissing porn star and director Stormy Daniels as a "hooker." 
Locke, who leads the Global Vision Bible Church in Tennessee, tweeted to his audience just hours before Daniels detailed her alleged affair with President Donald Trump on "60 Minutes" Sunday night saying: "The funny thing is @realDonaldTrump is still the President and she's still a hooker. #StormyDanielsDay."
The controversial tweet which has racked up some 19,000 comments caught Tapper's attention Monday morning. He replied on Twitter to the Tennessee preacher quoting Jesus' response to a former prostitute in Luke 7.
"A woman in that town who lived a sinful life learned that Jesus was eating at the Pharisee's house, so she came there with an alabaster jar of perfume. As she stood behind him at his feet weeping, she began to wet his feet with her tears," he began, quoting verse 37.
Tapper then quoted the entire text of Jesus' response to the ex-prostitutes down to verse 49 when Jesus tells her, "Your faith has saved you; go in peace."
Apparently unbothered by Tapper's rebuke, Locke replied: "Great passage for sure. He changed her life by love and grace. She didn't continue living in it and then get on national television to garner more attention for her nonsense. Context is key. The fact is, you hate my support of Trump w/out a Bible."
Tapper quickly shot back at Locke and digging a bit deeper into his criticism of the pastor noting: "I have complete indifference to your feelings about any politician. But you might want to reconsider a refresher course. Hint: the passage is not 'hey, go throw stones!'"
Pastor Locke has recently been battling public criticism from fundamentalist Christian groups who believe he should not be preaching due to his chaotic private life.
In an interview with Pulpit & Pen this month, Locke's wife Melissa charged that her husband was both physically and verbally abusive to her. She said she walked out on her husband after he reportedly told her after a heated quarrel: "You know Melissa, I just don't want you anymore. I don't care if you die and we have a funeral. I'll just shed a few tears over you. I don't care if you take all the pills in the house, I just want you not in my life."
After news broke that he was heading for divorce, Locke revealed in an interview with The Christian Post last month that his wife has been battling mental illness for a long time and she was sent to a place where she would be able to get the help she needs.
"She's been in and out of mental health facilities but that is not where she is right now. She is at a place that helps ladies get on their feet again. The only reason why she is there is that the lady who runs it is like her grandmother, and so she's there. She's only there because of the comfort," he told CP.
He insisted that she wanted to live that way and that he had very little control over her actions as divorce isn't something he believes in.
Earlier this month leaders at Benchmark Church in Oliver Springs, Tennessee, were also forced to defend Locke after he was publicly rebuked for "not living up to what a pastor needs to be" because of his unstable family life.
Several videos of a brawl that erupted during a revival service at Benchmark Church highlighted an ongoing feud between the equally controversial Pulpit & Pen ministry of Pastor J.D. Hall of Montana, and Locke, who boasts a massive audience of more than a million followers on Facebook.
"We know that the devil is just having his way. And the biggest problem we have right now is this man right here," Pulpit & Pen associate, Tim Weakley declared in his rebuke of Locke at Benchmark Church.