Jewish Lesbian, Radical Feminists, Conservative Christians Unite to Fight Transgender Bathroom Laws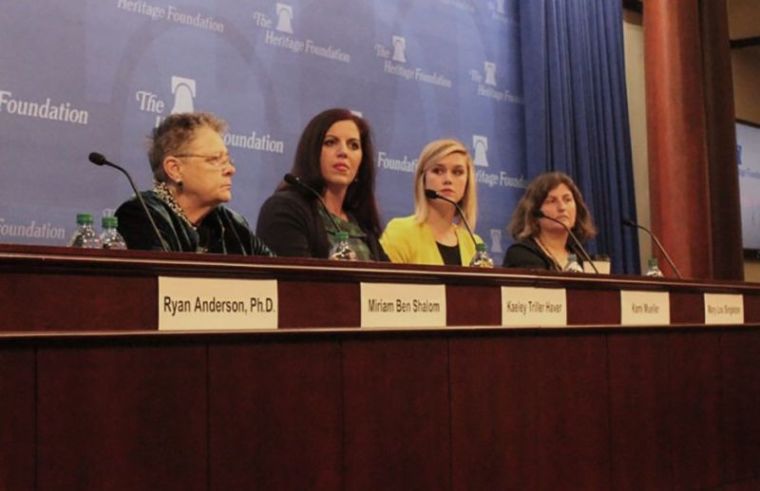 WASHINGTON — Radical feminists, right-leaning Christians, and a Jewish lesbian who is a former drill sergeant are uniting to fight against "gender identity" laws, policies they say pose a grave threat to women and girls.
In a panel discussion titled "Biology Isn't Bigotry" hosted by scholar Ryan Anderson at the Heritage Foundation Thursday, in front of approximately 100 people, five women from The Hands Across the Aisle Coalition blasted recent moves by federal and state governments codifying gender identity — the notion that gender is not biological but self-determined — into the law. (See below to watch the full panel discussion.)
They constitute a bi-partisan group of women committed to using their platforms and resources to advocate against certain elements of transgenderism to protect vulnerable women and girls, hailing from a variety of backgrounds, professions, and political persuasions.
Kaeley Triller Haver, a survivor of sexual abuse who identified as a conservative Christian, began by noting that "as a little girl, something that I was told quite often, through tears, was that if I did not compromise my personal space and my boundaries that I was somehow being unloving. And that if I did not allow my abuser to do whatever he wanted he might not be ok."
Today, she said, because of her advocacy, she is again being told similar things as her abuser, but this time from employers and transgender activists.
She was released from her job at the YMCA for voicing her concerns about their policy opening up of their women's locker rooms to men identifying as women.
In November 2015, Haver penned an essay that was the most read piece on The Federalist in 2016, titled "A Rape Survivor Speaks Out About Transgender Bathrooms" in which she recounted part of her harrowing story and why instituting such policies is so dangerous. She now serves as the communications director for the Just Want Privacy Campaign in her home state of Washington.
"When 'gender identity' wins, women always lose. That's how this works," Haver explained.
"'Woman' means something. And far too many of us, we get silenced and told to sit down and be quiet ... and what is happening with gender identity issues is that women are getting trampled and ultimately erased," she continued.
Miriam Ben Shalom, 68, an educator and activist who made history for being the first person who was reinstated to the military after she was discharged from service for being openly lesbian did not mince words.
Quoting the famous American pamphleteer Thomas Paine, Ben Shalom said "to argue with a man who has renounced reason is like giving medicine to the dead," and many on the Left have rejected reason by blurring the distinction between male and female. She further noted she was disgusted by all the demonizing of opponents she sees frequently in American society across the political spectrum.
Although their opinions on many issues land all over the political spectrum, their opposition to the demands of trans activists have transcended normal party politics and the ladies have forged remarkable friendships. In the Hands Across the Aisle Coalition, Ben Shalom noted, they were "amazingly finding out that we have more common ground on some things than we even knew."
In light of the fact that you cannot vote or procure a credit card of your own until age 18, buy alcohol at age 21, "how the hell is it that you are going to give kids in kindergarten and 11-year-olds all kinds of chemicals [to transition genders]," Ben Shalom continued, visibly upset.
She further pleaded for people not to demonize all gays and lesbians and regard them as a monolith, taking exception to a Family Research Council brochure which stated that the increased attention to the transgender movement was part of a larger development within the LBGT movement.
"That's incorrect," Ben Shalom asserted. "I can tell you as a gay woman, a lesbian who has been out since 1974 ... there are a great many people who are lesbian, who are gay men, who are bisexuals who are not happy with this. And who wish the 'T' would just go away. Transgender issues are not our issues."
"A lot of what is going on here is due to white, male, gay money because they think it's cool at [gay rights organization Human Rights Campaign] and a couple of very wealthy trans women."
She, as several women on the panel also expressed, has been the target of numerous vitriolic rape, mutilation, and death threats from trans activists, but insists she is not afraid.
"They may say they want to burn us, kill us, disembowel us or whatever. Well, this Jewish dyke does not walk through anybody's gas chamber easily or well. And I'll continue taking the heat because our shield, and what we have here today, is that we tell you the truth."
"Biology isn't bigotry, biology is the truth," Ben Shalom concluded.
Also present on the panel were Mary Lou Singleton, a board member of the radical feminist organization Women's Liberation Front that sued the Obama administration over its reinterpretation of Title IX to include men identifying as women, and Kami Mueller, Communications Director for the North Carolina Republican Party. Mueller played an integral role in the efforts to defend the state's privacy law, HB2, which stated that men and women must use the restroom facilities according to the sex on their birth certificates.
Ben Shalom read the prepared remarks of Emily Zinos, a Roman Catholic mother of seven from Minnesota who is an advocate with "Ask Me First" campaign, a privacy initiative sponsored by the Family Policy Alliance. Zinos was absent due to a family emergency.