Trump Administration Withdraws Stay Request in Transgender Bathroom Case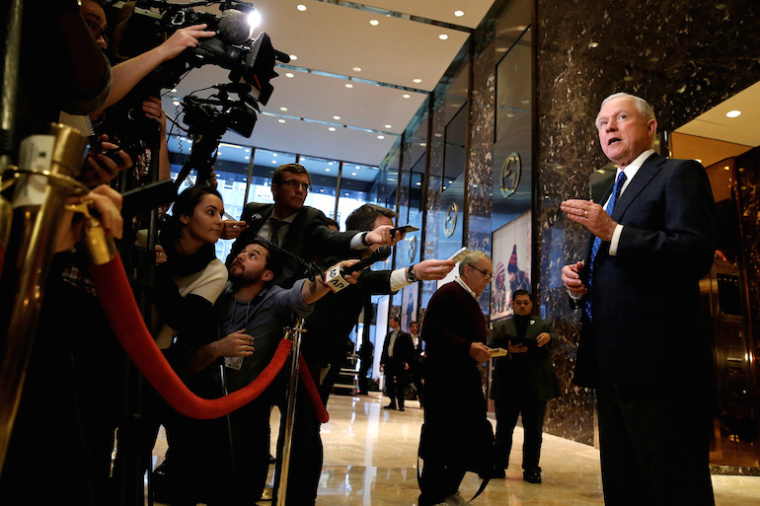 The Department of Justice, under Attorney General Jeff Sessions, has withdrawn a request made by the Obama administration to limit an injunction that has halted enforcement of protections for transgender people.
The Justice Department on Friday withdrew a motion asking that a temporary injunction blocking Obama administration guidance on the issue only apply to the states suing the federal government, according to Fox61.
The guidance, which directs public schools to allow transgender students to use bathrooms and locker rooms according to their gender identity, has been challenged by Texas and 12 other states. The Obama administration had asked that the directive only be put on hold in the 13 states arguing that federal laws prohibit sex discrimination in public schools.
The Justice Department's new move will not have any effect immediately, as a federal judge had temporarily blocked the directive nationwide last year.
LGBT rights groups criticized the Donald Trump administration after the Justice Department withdrew the request.
"Transgender students are entitled to the full protection of the United States Constitution and our federal nondiscrimination laws," Chad Griffin, president of the Human Rights Campaign, said in a statement, calling on President Trump reverse course.
To the disappointment of many conservative Christians, Trump recently renewed Obama's executive order which prohibited federal contractors and subcontractors from discriminating on the basis of sexual orientation or gender identity.
The White House also released a statement recently, saying, "President Donald J. Trump is determined to protect the rights of all Americans, including the LGBTQ community. President Trump continues to be respectful and supportive of LGBTQ rights, just as he was throughout the election. The executive order signed in 2014, which protects employees from anti-LGBTQ workplace discrimination while working for federal contractors, will remain intact at the direction of President Donald J. Trump."
During his presidential campaign, Trump told ABC's "Good Morning America," "I believe it should be states' rights and I think the states should make the decision. They're more capable of making the decision."
And last April, Trump was critical of North Carolina's law stating that people must use the bathroom that corresponded with their biological sex rather than their chosen gender identity.
"Leave it the way it is. There have been very few complaints the way it is," he said. "People go. They use the bathroom they feel is appropriate. There has been so little trouble."
Notably, Trump's cabinet picks are overwhelmingly opposed to the LGBT movement.