Jill Duggar Reveals Baby Bump Less Than Three Months After Wedding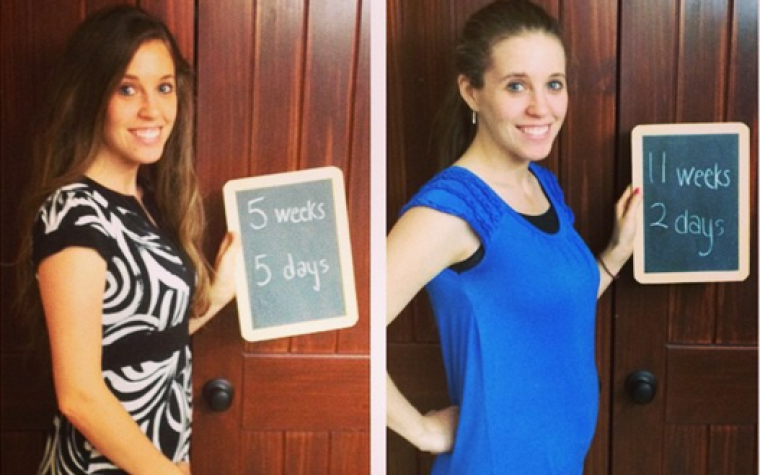 Derick Dillard is already documenting his wife Jill Duggar's pregnancy less than three months after their wedding.
The newlyweds announced the pregnancy just eight weeks after their June 21 nuptials. Today, the 23-year-old bride is showing off her burgeoning baby bump for the first time on Instagram. Dillard, 25, shared a photo collage featuring Duggar's progress at five weeks and five days as well as at 11 weeks and two days.
"By the end of next week, all of our baby's body parts, from tooth buds to toenails, will be developing! #firsttrimesterprogression #babydilly #19kidsandcounting," Dillard wrote in the caption on Sept. 5.
In another post on Wednesday, Sept. 10, Dillard revealed another photo of his wife's baby bump.
"Had our 12 wk midwife appt yesterday! #babydilly #jillmdillard #derickdillard #blessedparents," Dillard wrote.
Meanwhile, the newlyweds recently explained why they announced their pregnancy so early.
"Understanding that the majority of miscarriages happen within the first trimester, and believing that every life is precious no matter how young, we decided to share our joyful news as soon as we could," Duggar told The New York Post. "We knew that we weren't going to prevent having children, so when we found out we were expecting within our first month of marriage, we were thrilled!"
The couple are expected to welcome their firstborn in March, and they both have stated a desire for a large family, much like Duggar's parents who inspired the TLC series "19 Kids and Counting."
"Both of us would love to have as many children as God will give us," Duggar said to E! News. "We are also open to the possibility of adoption."
Jill's newborn will join an enormous family that includes her eight sisters and ten brothers, including two sets of twins, all of whose names begin with the letter "J."