Jim Bob Duggar of '19 Kids and Counting' Calls Christian Conservatives Political 'Sleeping Giant'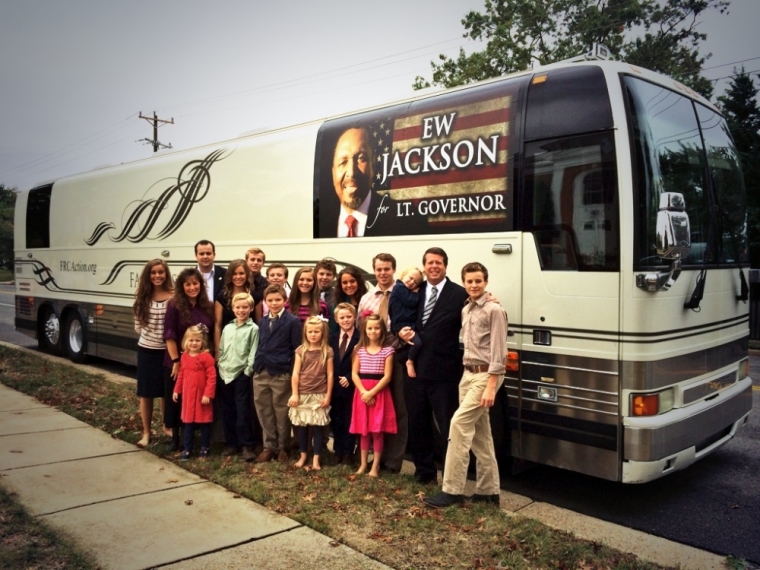 Jim Bob Duggar, a former Arkansas state representative and reality television personality on the show "19 Kids and Counting," argued that an inactive voting bloc would have won Mitt Romney the presidency last year, and will win Ken Cuccinelli the Virginia's gubernatorial race in November.
"There's a sleeping giant which is the Christian Conservatives…I think they'll win this thing," Duggar told The Christian Post in a Thursday interview. An Arkansas native, Duggar, his wife, and his 19 children have been campaigning for three Republican candidates in Virginia since Monday: Ken Cuccinelli for governor, E.W. Jackson for lieutenant governor, and Mark Obenshain for attorney general.
Duggar said the goal of his 21-person family trip to the East Coast is to "motivate the christian conservatives to get out to vote." He estimated that 400 people attended the rally at Liberty University, and his son Josh pegged the total number at over 1,000 for four days. The Duggar patriarch argued that President Barack Obama won his re-election in 2012 due to this crucial segment of the electorate "getting distracted and not voting like they should."
Zeroing in on the governor's race, the father of 19 referred to two recent polls which put Cuccinelli 9 percent and 7 percent behind his Democratic challenger, Terry McAuliffe. Describing the election as a "close race," he said conservative christians "will make the difference."
"Ken Cuccinelli is a statesman," Duggar proclaimed. "He has stood for biblical values even when it wasn't popular." The television personality applauded Cuccinelli's support for abortion clinic regulations and called the candidate "a good dad, a good husband, and a great leader for the state of Virginia."
The Arkansas TV personality also explained Cuccinelli's experience with politics in the state of Virginia – state senator for seven years and attorney general for four. McAuliffe, by contrast, "has never served one day in public office," working as chairman of the Democratic National Committee instead.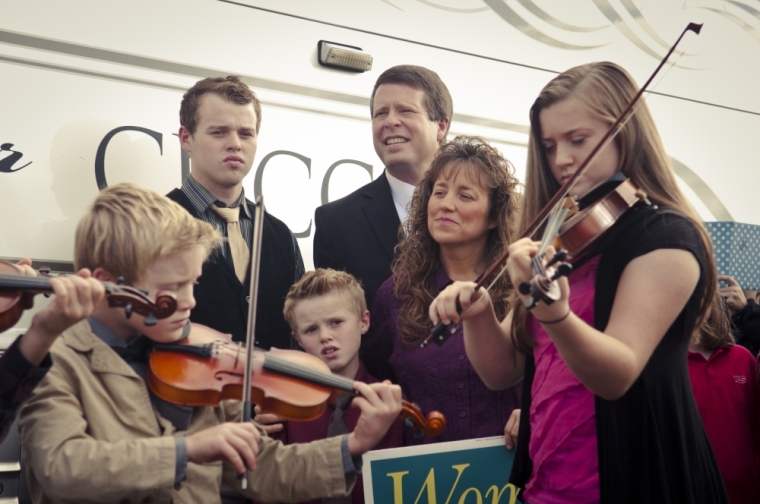 While Duggar and his wife, Michelle, reportedly met Cuccinelli on Tuesday, their interaction with McAuliffe has drawn more interest, Jim Bob said. A spokesman for the Democratic candidate asked the family to leave, but Duggar recalled Michelle's retort – "you first!"
"When [McAuliffe] was running for governor last time he was part of an elaborate scheme to scam terminally ill senior citizens out of money," Duggar alleged, parroting a recent Cuccinelli ad. Politico reported that documents prove McAuliffe's involvement, but the Democrat's campaign argued he was deceived, "one of hundreds of passive investors."
The Arkansas patriarch also attacked McAuliffe's involvement in a 1997 scandal involving President Clinton renting the Lincoln Ballroom to major Democratic donors. The political fact-checking website PolitiFact rated this claim as "false," arguing that McAuliffe had a much smaller role than Cuccinelli has charged.
"Our family has had such a great time," Duggar said, thanking those with whom he campaigned and encouraging them to vote early.
Josh Duggar, the first-born son and new executive director at FRC Action, the political arm of the conservative Family Research Council, traveled with the rest of the family and echoed his father's support for Cuccinelli, Jackson, and Obenshain. "These guys are solid conservatives – they really represent our values," he proclaimed.
"People trust people they know and watch on television," Josh Duggar explained, adding that his family wanted "an opportunity to use that in a positive way." While many are looking ahead to the 2014 and 2016 elections, the FRC Action director said the Virginia campaigns are the most important in the country this year.