Jim Caviezel Warns Against 'Fake Christianity' in 'Pagan World' (Video)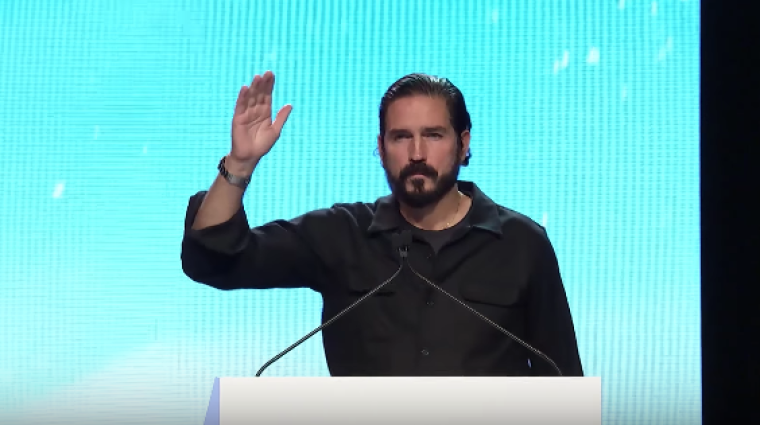 Actor Jim Caviezel put on his preacher's hat during a recent conference held at the Fellowship of Catholic University Students SLS Leadership Conference in Chicago, Illinois, where he warned those in attendance against false Christianity and urged them to publicly express their faith in "this pagan world."
Caviezel, who stars in the upcoming film "Paul, Apostle of Christ," surprised the #SLS18 attendees by sharing a portion of his testimony and encouraging them to be warriors for faith.
He explained that portraying Jesus in Mel Gibson's box office hit "Passion of the Christ" put him through great physical suffering. He was struck by lightning, had his shoulder separated, and suffered from hypothermia for five months, which later resulted in him needing to have open heart surgery.
"The suffering made my performance, just as it makes our lives," Caviezel said.
"Some of us now embrace a fake Christianity where it's all happy talk and all happy Jesus and glory. Guys, there was a lot of pain and suffering before the resurrection. Your path will be no different, so embrace your cross and race toward your goal," he advised.
The Hollywood star then charged everyone listening to be like Jesus' true followers in the Bible.
"I want you to go out into this pagan world, I want you to have the courage to step into this pagan world and shamelessly express your faith in public. The world needs proud warriors animated by their faith," he declared. "Warriors like Saint Paul and Saint Luke who risked their names, their reputations to take their faith, their love for Jesus into the world.
"God is calling each one of us, each one of you to do great things but how often we fail to respond, dismissing it as some mental blurp. It's time for our generation, now, to accept that call, the call of God urging all of us to give ourselves entirely to Him," Caviezel stressed.
He encouraged the audience to first make the commitment to pray, fast, read and meditate on the Scriptures. Then he warned that the world is entrenched in sin and God is calling out to everyone to give themselves to Him.
"Paul, Apostle of Christ" stars Caviezel ("Passion of The Christ") as Luke; James Faulkner ("Game of Thrones") as Paul; Olivier Martinez ("S.W.A.T."); Joanne Whalley ("A.D. The Bible Continues"), and John Lynch ("The Secret Garden").
Caviezel won wide acclaim for his portrayal of Jesus in the 2004 blockbuster film "The Passion of the Christ."
The film showcases when "Paul suffers alone in a Roman prison, awaiting his execution under Emperor Nero. Mauritius, the ambitious prison prefect, can hardly see what threat this broken man poses," the film's synopsis reads.
"Once he was Saul of Tarsus, the high-ranking and brutal killer of Christians. Now his faith rattles Rome. At great risk, Luke the physician visits the aged Paul to comfort and tend to him — and to question, to transcribe, and to smuggle out Paul's letters to the growing community of believers. Amid Nero's inhuman persecution, these men and women will spread the Gospel of Jesus Christ and change the world." 
"Paul, Apostle of Christ" will premiere in theaters nationwide on March 28.