Jimmy Kimmel Tells Roy Moore to 'Get Some Christian Values'
Jimmy Kimmel Tells Roy Moore to 'Get Some Christian Values'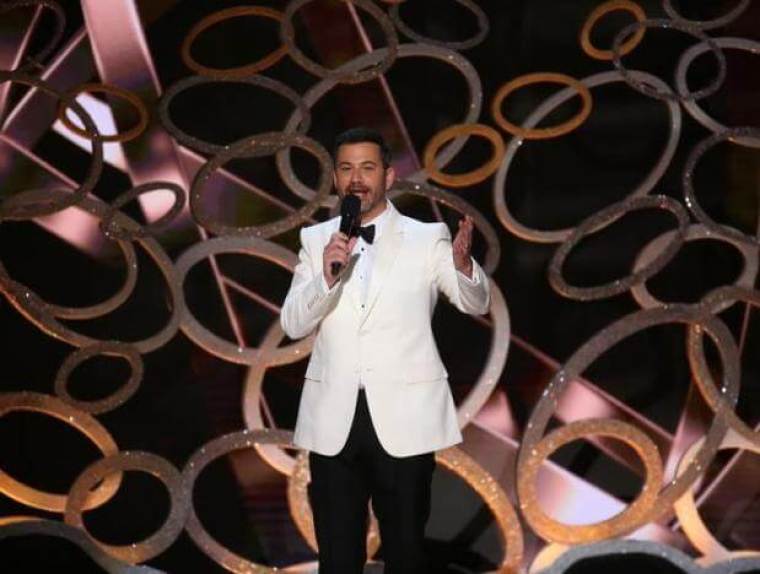 Responding to Alabama GOP Senate candidate Roy Moore's challenge to come to Alabama to mock his Christian values, television host Jimmy Kimmel told Moore to "get some Christian values." The Senate hopeful had challenged Kimmel after comedian Rich Barbieri disrupted a church service while Moore was speaking.
"Sounds great — let me know when you get some Christian values and I'll be there!" Kimmel tweeted Thursday, responding to Moore's tweet, which read, "@jimmykimmel If you want to mock our Christian values, come down here to Alabama and do it man to man."
On Wednesday, Barbieri, who has earlier appeared as the character "Jake Byrd" on Kimmel's show, disrupted a service at the Magnolia Springs Baptist Church, where Moore was speaking.
After the incident, Kimmel wrote on Twitter, "Jake Byrd heckles Roy Moore: Jimmy Kimmel comedian crashes Alabama church rally."
"Jimmy Kimmel and the 'Hollywood elite' cross the line when they invade our churches under a disguise and attempt to make a mockery of our worship services," Drew Messer, a senior adviser to Moore, told Breitbart News.
"If Kimmel wants to mock our Christian values, he should come down here and do it man to man instead of hiding behind a camera in Hollywood," Messer added. "And yes, Jimmy, we will still rebuild our military, build the wall, protect our gun rights, reform our tax code, and support President Trump whether you like that or not. Hollywood will not bully us around."
Last month, a woman named Leigh Corfman accused Moore of initiating sexual encounters with her when she was 14. Three other women came forward, alleging Moore attempted to date them when they were between the ages of 16 and 18 and he was in his early 30s, though they clarified that he did not force them into any sort of sexual contact, and courting at that age was not illegal.
Also, an Alabama resident, Beverly Young Nelson, alleged that Moore groped her and tried to force her to perform oral sex when she was just 16.
Later, several other women made similar accusations. Moore has denied the allegations.
Alabama is expected to hold a special election on Dec. 12 to fill the Senate seat vacated by Attorney General Jeff Sessions.
Moore also tweeted to Kimmel, saying, "Despite D.C. and Hollywood Elites' bigotry toward southerners, Jimmy, we'll save you a seat on the front pew."
Kimmel responded, "OK Roy, but I'm leaving my daughters at home! P.S. — wear that cute little leather vest."
Meanwhile, The Daily Caller posted a video about Kimmel, as part of his role on "The Man Show," putting an object in his pants and encouraging women on the street to feel around for it. He asked one woman if she was of age, because she looked to be underage, as he asked her to touch him. Kimmel then asked another woman to perform a sex act on him, as part of his skit.
The Caller earlier reported on Kimmel once doing a skit in which co-host Adam Carolla encouraged women to jump on a trampoline for the pleasure of a male crowd. Women jumping on a trampoline wearing only lingerie or bikinis was also seen at the end of every episode of the "Man Show."
A senior Moore adviser, Brett Doster, criticized Kimmel. "For years, Kimmel hosted a show that exploited women and encouraged sexual impropriety," Foster was quoted as saying. "He and the rest of the entertainment industry look down their noses at our evangelical values while using their own pulpit to encourage the very behavior purveyed by monsters like Harvey Weinstein and Kevin Spacey."