Joel Osteen account offering prayers for money is a scam, Lakewood Church warns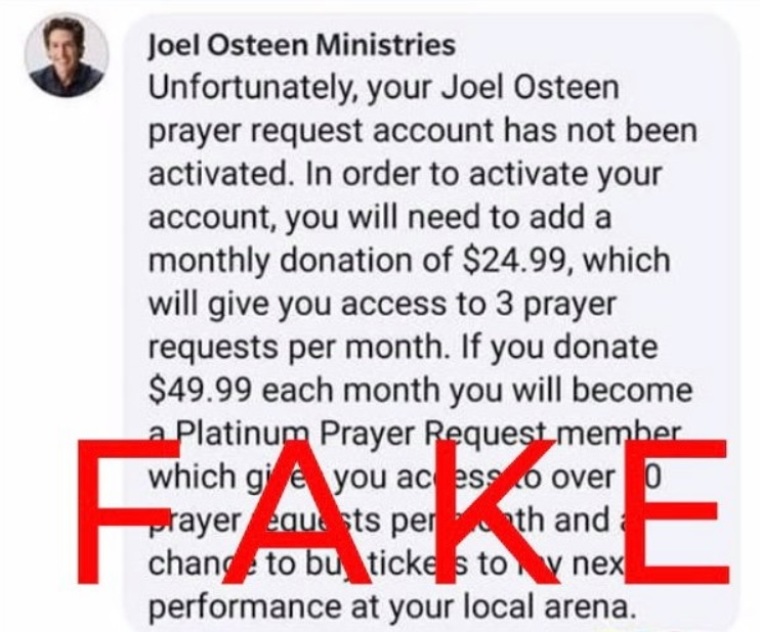 Lakewood Church is warning the public about a fake Joel Osteen Ministries account that is offering prayers in return for large monthly donations. 
In a message posted Wednesday on their Facebook page, the Texas-based megachurch warned people that a Joel Osteen Ministries page soliciting donations for prayer requests is fake.
"Joel Osteen Ministries never requests money for prayer. You can post your prayer requests here as well as pray for others: c.osteen.co/prayers," stated the church, whose warning has gotten nearly 700 shares and over 1,200 likes on Facebook.
Lakewood Church posted the message that the scam account was sending, with large red letters reading "FAKE" plastered on top of it.
The scam account messages people on Facebook, telling them that their "prayer request account" can only be activated if they donate $24.99 each month, which gives access to three prayer requests a month.
The scam message goes on to state that to become a "Platinum Prayer Request member," a person must donate $49.99 a month. In return, they would get more prayer requests.
This is not the first time that Osteen has been the subject of a scammer. In 2013, a scammer set up a fake Osteen Facebook account to solicit financial donations.
The 2013 scam operation included not just Osteen, but other notable pastors including Rick Warren of Saddleback Church in Lake Forest and Miles McPherson of the Rock Church in San Diego, California.
In response, Joel Osteen Ministries posted a message thanking the many who contacted them about the scam and directed them to a link where they could report the fake accounts.
Also in 2013, a fake Joel Osteen Ministries was set up and claimed that Osteen had resigned from Lakewood Church after having become an apostate.
"I believe now that the Bible is a fallible, flawed, highly inconsistent history book that has been altered hundreds of times," said the fake website, falsely quoted Osteen. That website has since been taken down.