Joel Osteen Comments on 'Mary, Mother of Christ' Film, Related Criminal Case
Joel Osteen Comments on 'Mary, Mother of Christ' Film, Related Criminal Case
Houston megachurch pastor Joel Osteen has spoken out on the highly publicized criminal extortion case surrounding the upcoming "Mary, Mother of Christ" film, described by some as a prequel to Mel Gibson's 2004 "The Passion of the Christ."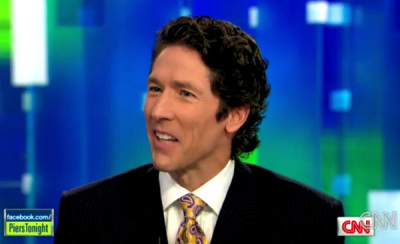 Osteen signed on with Aloe Entertainment to executive produce "Mary, Mother of Christ," but the Lakewood Church pastor's first foray into film production has been marred with controversy involving Mexican drug traffickers and money launderers.
"We knew nothing about it," the megachurch pastor told The Denver Post on Thursday regarding claims that profits from the film's script had been extorted from a Mexican businessman by money launderers and drug traffickers.
Osteen was in Denver signing copies of his bestselling book Every Day A Friday at a local bookstore.
"We didn't know about any of this," he said. "The lady who owned the script when we got involved didn't know about it."
In 2006, the script for "Mary, Mother of Christ" was obtained by Mexican businessmen Arturo Madrigal and Mauricio Sanchez Garza and resold to Aloe Entertainment for nearly a million dollars with a clause for an additional 15 percent of the total profits of the film.
However, prosecutors say that Sanchez, along with business partner Jorge Vazquez Sanchez, extorted Madrigal out of his share of the profits from the sale of the script by threatening and kidnapping his brother.
In May, Vazquez reportedly admitted to his involvement in the extortion plot and entered a plea deal agreeing to hand over his 10 percent of future profits for the film to the federal government, according to the Houston Chronicle.
"Mary, Mother of Christ" is expected to be released next year, retraces the life of Mary from her youth to her struggles as a young mother caring for her child, Jesus. The film, starring Odeya Rush as the young virgin, reportedly looks at Mary's life at ages 8, 15, 19 and 27.
Many have predicted that the film will be a box office success similar to Mel Gibson's "The Passion of the Christ," which grossed more than $300 million.
Shooting for the upcoming biopic has not yet occurred but is scheduled to take place on location in Italy, Jordan, and British Columbia. Osteen is optimistic and hopeful that the film will be made despite the surrounding controversy.
"I'd hate to see the movie held up because of all that," he said. "It's out of my control. I just believe it will all work out."
Mary, Mother of Christ - Trailer