Joel, Victoria Osteen Receive High Praise From Florida Mayors
Osteens' Generation Hope Project Aims to Multiply Charities' Impact in Community
3 photos
(Photo: Courtesy of Joel Osteen Ministries)
MIAMI – Miami Mayor Tomas Regalado and Doral Mayor Luigi Boria proudly spoke of God's work in their cities as they presented Pastors Joel and Victoria Osteen with the keys to their respective cities on Thursday at Shake-A-Leg Miami in celebration of the Generation Hope Project.
The Generation Hope Project is comprised of more than 150 young adults who are passionate about making a positive impact in communities by contributing their time and labor to help change the circumstances of despair through acts of kindness and compassion. This year's volunteers hail from Texas; Fort Wayne, Ind.; and one young man who endured a 16-hour flight from Johannesburg, South Africa, just to be a part of the two-day project in Miami.
Speaking about the impact Generation Hope and the Osteens have had on Miami, Regalado expressed his gratitude for their investment in the city, and for supporting the dreams of those who've devoted their lives to meeting the needs of their community.
Regalado told The Christian Post that it can be easy for volunteers to get discouraged, "because there are too many people in need and too few resources available to help."
"By having volunteers come into the city to paint Curley's House and to help build a community garden, they believe that they're not alone," he said. "And that's important because that's the legacy that Joel and Victoria are going to leave."
Tracy Moretz, a Generation Hope volunteer from Houston, Texas, described her participation in helping to plant Curley's Garden, a community garden located near Curley's House food pantry and the Church of the Open Door, as being providential, because no other staff member knew that gardens hold a special place in her heart.
Moretz said that as a young girl, she felt comfort in seeing small parks and gardens in her neighborhood and even helped her father grow vegetables. She said she felt a sense of security by the experience of having small parks and gardens near her home as a child, and is overjoyed to have the opportunity to provide the same experience to a new generation of children.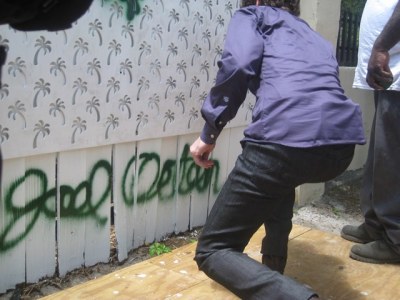 "This is such a lasting legacy," she commented. "The efforts that we put forth today will last for decades, and will bring that sense of well being to all of the kids who live near the garden. And for me that is priceless – to be able to give that sort of gift to the community."
Prior to receiving the keys to the cities of Miami and Doral, Joel Osteen visited with the volunteers who were assigned the task of repainting Curley's House food pantry, as well as those assigned to plant fruit trees, vegetables and flowers at Curley's Garden, and those who spent their day fishing with young autistic children at Shake-A-Leg Miami.
Earlier in the day, Victoria read her book, titled My Happy Hearts Book, to young children at His House Children's Home, a faith-based nonprofit organization that provides a home for children up-to age 18, who are escaping abuse, poverty and neglect. Staff from Osteen's 40,000-member Lakewood Church in Houston described the book reading as a "very emotional experience."
During the ceremony at Shake-A-Leg Miami, Boria shared the impact that Osteen and his father, the late-John Osteen, have had on his spiritual journey. He said he religiously watched Osteen preach on television and even recorded a great number of his sermons. "I wanted to see every episode of his preaching," he said, thanking the Osteens for their work "on behalf of the whole world." He added that the Osteens have touched his life, and said their message is moving in the lives of other politicians, including Florida Gov. Rick Scott.
Osteen responded to the mayors' complements by announcing that although he was receiving all of the credit, he wanted to commend Miami's political leadership, the Generation Hope Project volunteers, and Harry Horgan, founder and president of Shake-A-Leg Miami, which he created 20 years ago following a spinal cord injury in 1980. The nonprofit helps people with disabilities to regain their independence through kayaking, sailing, fishing and other water sports.
"Harry we're here to celebrate you and all that you're doing to change the world," Osteen said before offering a prayer for the city, the volunteers and for Horgan.
Horgan told CP that his organization "provides a wholesome environment where kids can be inspired to find their passion and find a friend. And to believe that anything's possible so they can have the opportunity to succeed and be encouraged to achieve their dreams."
"God works in mysterious ways," he said, explaining that the facility provides people with access to Biscayne Bay, which he believes is "one of God's treasures."
"Our goal, along with Joel Osteen Ministries, is to reach out to families with a child or an adult with disability and let them know they have a place to come and have some fun together," Horgan said. "There's no better person to help reach those in need than Joel and his ministry."
He continued: "We've created a place for people to come, and leave their disability aside and help themselves by helping others. Because when you have a disability, the world doesn't stop, it keeps going. Many people don't have a support system to take them to the next level, and that's what we have here. And with that spirit of giving, that's where the miracles happen."
Osteen, is the author of the new book, I Declare: 31 Promises to Speak Over Your Life, and will host an evening of inspiration and worship at the fifth annual "America's Night of Hope" that will be held at Marlins Park in Miami on April 20.
Nonprofit organizations that Generation Hope Project is helping this year include: Miami Bethany Community Services, His House Children's Home, Shake-A-Leg Miami, West Perrine Community Center, Curley's House of Style, the Church of the Open Door (Hope Relief Food Bank), Farm Share, Empowered Youth, and Alpha & Omega Church (Champions Club for Autism).