John MacArthur has health scare; church says he's 'doing well'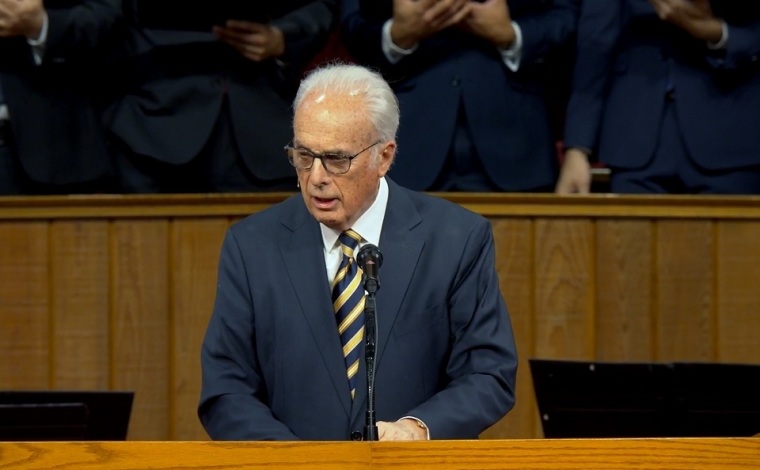 Pastor John MacArthur of Grace Community Church of Sun Valley, California, fell ill on Sunday, preventing him from preaching the second service Sunday. However, his congregation reports that he is "doing better."
Grace Community Church posted a brief update on Monday about the health of the controversial 83-year-old pastor.
"We are pleased to report that he is doing well. He saw a doctor on Sunday afternoon, and he is in good health and just needs rest from a busy holiday week," stated the church.
On Sunday, a church elder told the congregation that although MacArthur had preached during their first service, he could not preach the second due to an unspecified illness.
"Just so you know, Pastor John had a bug this week and preached our first hour but asked if he might be able to take a break for the second hour," stated the elder, as quoted by Protestia.
"So, Mike Riccardi is going to be answering the call. It's pretty, pretty amazing we have guys with sermons in their Bibles wherever you go, and so Mike's going to be here."
MacArthur became the pastor-teacher of Grace Community Church in 1969, a few years after graduating from Biola University's Talbot Theological Seminary. During that time, MacArthur has reportedly preached over 3,000 sermons.
The Grace Community pastor has garnered his share of criticism over the years over his views on women preachers, the Charismatic movement and religious freedom.
In 2020, when California issued strict lockdown orders during the COVID-19 pandemic, MacArthur's church refused to follow them, engaging in a lengthy legal battle over the issue.
While his congregation met during the pandemic, a COVID-19 outbreak ensued at his church, with MacArthur being one of the many who contracted the disease.
Eventually, California and Los Angeles County agreed to a settlement with Grace Community in which the government officials paid $800,000 in legal fees to end the litigation.
"We are very pleased to see Pastor MacArthur and Grace Community Church's First Amendment protections fully vindicated in this case," read a 2021 statement from Jenna Ellis of the Thomas More Society, who helped represent the church.
"It has been a hard-fought battle to preserve religious liberty and we hope that this result will encourage Californians, and all Americans, to continue to stand firm that church is essential."
Last September, MacArthur sent an open letter to California Gov. Gavin Newsom denouncing the elected official's usage of the Bible to champion abortion access.
"You revealed to the entire nation how thoroughly rebellious against God you are when you sponsored billboards across America promoting the slaughter of children, whom He creates in the womb," wrote MacArthur.
"You further compounded the wickedness of that murderous campaign with a reprehensible act of gross blasphemy, quoting the very words of Jesus from Mark 12:31 as if you could somehow twist His meaning and arrogate His name in favor of butchering unborn infants."