John Piper Answers: Did My Lust for Porn Cause My Wife's Miscarriage?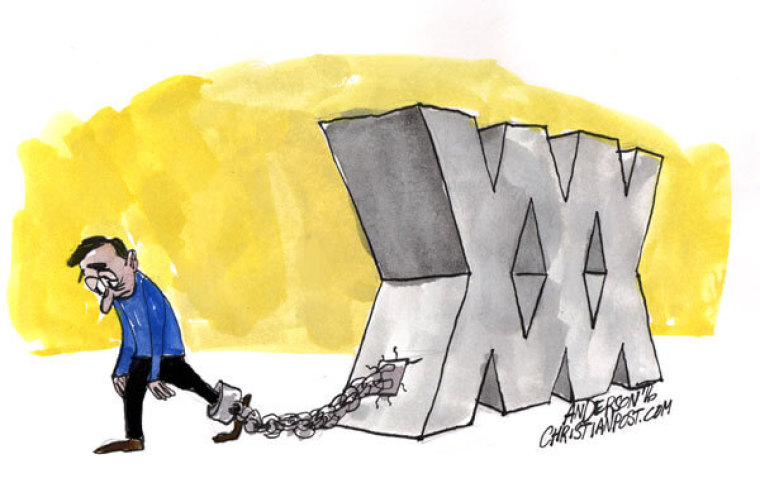 Is it possible that God would punish a man's lust for pornography by causing his wife to miscarry their child as a form of retribution for his sins?
A listener of Pastor John Piper's podcast said he fears that his inability to resist temptation has caused harm to his family and God allowed his wife to lose their child because of his behaviors. 
Piper, the chancellor of Bethlehem College & Seminary, breaks this issue down into four questions that he answers in a podcast posted Monday on his website DesiringGod.org.
1. What does it mean to struggle with pornography?
Piper breaks "struggle" down into two parts. He explains that "joining sinners on the screen in their wickedness by supporting them with our interest and our attention and our pleasure and then feeling guilty about it when we are done every day," is not really a struggle, but participation and capitulation.
On the other hand, the anonymous man may mean that he is able to resist temptation, as Piper puts it, "99 times out of 100," but gives in in a moment of weakness, only to repent of his actions, dust himself off, and try again.
The pastor says, "That may be what struggle means. That would be a little more meaningful to call the word struggle."
Either way you cut it, Piper says it is important for the individual to call his actions sin "because Jesus takes this sin so seriously, He uses a horrible picture to describe the warfare against it — and the worst possible warning against failure in the war."
The theologian expounds upon this point by citing Matthew 5:29, which reads: "And if thy right eye offend thee, pluck it out, and cast it from thee: for it is profitable for thee that one of thy members should perish, and not that thy whole body should be cast into Hell."
Piper adds: "So, tearing out the eyeball is the most horrible description of the nature of the warfare, and Hell is the most horrible warning of failure in the warfare. So, I doubt that any of us has ever overestimated the danger of failing to fight lust. And I am glad that our anonymous questioner has called it sin and is feeling bad about it."
2. Does God discipline His children for their sin?
"Yes He does," says Piper, referring to Hebrews 12: 5-6, which reads: "Have you forgotten the exhortation that addresses you as sons? My son, do not regard lightly the discipline of the Lord, nor be weary when reproved by Him. For the Lord disciplines the one whom He loves, and chastises every son whom He receives."
"It never feels that way [like love]. But we need to believe that because the Bible says so. God says so."
3. May that discipline come in the form of harm, or even death to others you love?
The pastor's response might come as a surprise to some: "It may," he says. Piper uses the biblical example of King David and how his lust for Bathsheba led to the two committing adultery and ultimately Bathsheba's pregnancy.
Bathsheba's husband, a soldier named Uriah, was away at war and could not have possibly caused the pregnancy. So David sent for him to return in order to create an opportunity for him to sleep with his wife to justify her pregnancy. Uriah, however, refused to sleep with Bathsheba, not wanting to indulge in the comforts of his wife and home, in solidarty to his fellow soldiers who were still fighting.
King David, sinking deeper into a quagmire of sin, ordered Uriah to be sent to the front lines of the war where he was killed in battle.
Nathan the prophet said to David, " ... The Lord also hath put away thy sin; thou shalt not die" (2 Samuel 12:13). The next Scripture reads, "Nevertheless, because by this deed you have utterly scorned the Lord" (and surely that is what pornography is, says Piper) "the child who is born to you shall die" (2 Samuel 12:14).
This Scripture proves that the sins of the father can be visited upon the next generation and cause them harm, or even death.
4. What should you do if you believe God has dealt you such a blow?
Piper says, "The glorious truth of the Gospel is that we never need to be sure whether a specific suffering is owing to a specific disobedience. You don't need to know this."
"So, what our friend must do in this confusion — he says,'I am confused.' Okay, so I am saying, what he must do in his confusion is stop fretting about whether his pornography was the direct cause of his miscarriage. He should stop fretting about that. He will never know for sure the answer to that question, short of some direct revelation ... God's merciful design for our friend is that he worship. Blessed be the Lord Job 1:21. Worship more deeply the way Job did."
"God also designs that he renounce sin more fully the way Job did and that he lay afresh on the power of the Holy Spirit to flee all temptation and that he renounce in the presence of his wife for her joy that he is done with this sin."