Joplin Tornado Death Toll Rises to 142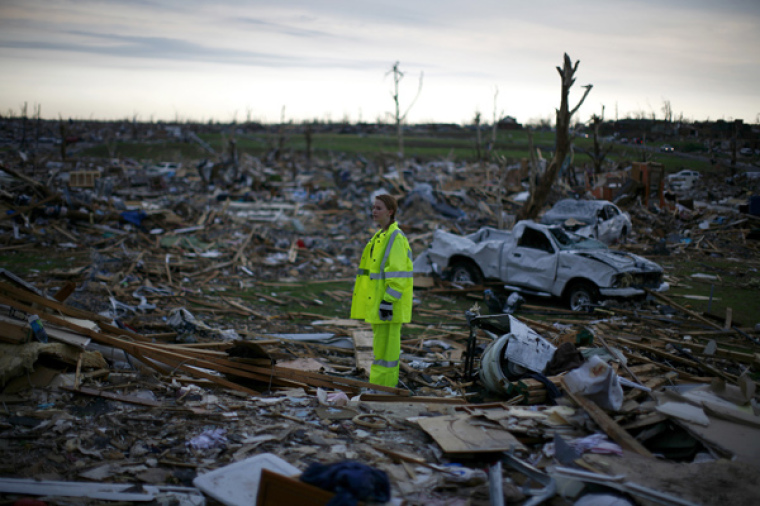 Joplin, Mo., officials have updated the death toll from Sunday's tornado to 142.
Among those newly found dead was Will Norton, 18, who had just graduated high school the day the tornado hit.
He was found in a pond on Friday, his family announced Saturday in an emotional press conference. He had been sucked out of his car despite his father's efforts to hold onto him. Norton was reciting verses of the Bible when he was sucked out, as reported by PoliticMo.
3 photos
(Photo: Reuters / Eric Thayer)
Meanwhile, the search continues for 100 persons who are still missing.
A week has passed since Joplin was hit by the deadliest tornado in the U.S. since 1947. Some have described the scenes as if the city of 50,000 people was bombed or as if someone had placed the city in a blender and hit pulverize, as one worker at Samaritan's Purse put it.
Another relief worker, Jody Herrington-Gettys, director of U.S. Disaster Relief for Operation Blessing, recently observed, "As we drove into Joplin, the scenes of destruction where unimaginable."
The latest death toll was announced Saturday by Joplin City Manager Mark Rohr.
With that updated number, 2011 has become the deadliest year for tornadoes since 1953, when 519 people died. So far this year, 523 people have been killed.
In total, there have been 1,333 preliminary tornado reports in the U.S. so far this year, according to The Washington Post. That's nearly 60 more than the average in a single year.
Faith-based relief groups that have been busy aiding in recovery efforts in Alabama, which was struck by tornado storms last month, have redirected part of their efforts to help victims in Joplin.
Operation Blessing is one of them.
Despite the unimaginable devastation, Herrington-Gettys described the situation as nothing less than hopeful.
"[O]nce we saw how the faith-based community here has rallied together to help those in need, our spirits soared. Hundreds of volunteers are providing comfort to local residents who have lost everything, not only through relief supplies, but also through sharing love and hope."
President Barack Obama will be heading to the ravaged city on Sunday, a day after returning to the U.S. from a six-day European tour.