Jose Fernandez Tribute: MLB Star Dee Gordon Says 'If You Don't Believe in God, You Better Start'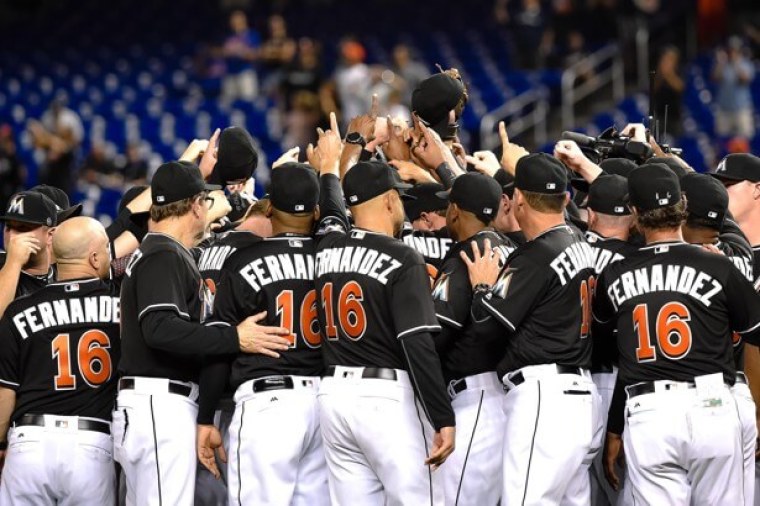 Miami Marlins baseball star Dee Gordon hit a home run in his team's 7-3 win over the New York Mets on Tuesday, paying tribute to slain teammate Jose Fernandez, and crediting his achievement to God.
"I ain't never hit a ball that far, even in BP," Gordon said, who finished with a season-high four hits, according to USA Today Sports.
"I told the boys, 'If you all don't believe in God, you better start.' For that to happen today, we had some help."
The Marlins are locked in a wild-card playoff race with the St. Louis Cardinals and San Francisco Giants, and appeared to be out of the race, but on Monday night "played with apparent supernatural strength," motivated by the tributes to Fernandez, USA Today Sports reported.
Other players said Gordon was in tears when he completed his home run.
"I was crying, too. I had my head down. When he crossed home plate, tears were coming down his face, and they were coming down mine, too," said Mets catcher Travis d'Arnaud.
"The whole world felt that emotion in that moment, whether you were here or watching on television. For (Gordon) to honor (Fernandez) with his batting stance and then hit a homer, it was unbelievable."
Fernandez, a two-time All-Star at only 24 years of age, died late Saturday night along with two other men in a boating incident in Miami. Officials said that a 32-foot motorboat carrying the men struck a jetty that delineates the northern section of Miami's deepwater channel and capsized, killing them on impact.
Florida Fish and Wildlife Conservation Commission spokesman Lorenzo Veloz revealed that the bodies of the three men were found on and underneath the boat, with the agency launching an investigation into the incident.
The New York Times reported that the baseball star's death has touched fans, fellow players, and the Cuban community in Florida, with several tributes taking place on playing fields and makeshift shrines.
Tony Diaz, a spokesman for the Cuban Baseball Federation, said that Fernandez's death was "a big loss for global baseball. An already famous youth, he had a promising future," according to Reuters.
A number of Cubans in Miami added that he was a hero to the community.
"His story was our story," said 78-year-old Miguel Garay. "There's such a great tradition of baseball in Cuba and he embodied it better than anyone."
Fifty-four year old Rene Nodarse praised Fernandez's clean-cut image as an example for other Cuban players.
"He had so much passion and joy," Nodarse said. "Today it feels like our whole community has died."
Fernandez was also known for having a 'charismatic, fun-loving personality,' and contributed to the Marlins not only with his pitching ability, but also with his support.
"That guy would have been on the mound," Gordon said of his teammate, who had been expected to start the previous game on Monday. "And if he wouldn't have been on the mound, he would have been on the top step, screaming for us."
"I just hope he's happy. I hope he's good because we love him so much," he added.