Josh Duggar Shares First Photo of Baby Meredith Grace as Jim Bob, Michelle Film Birth Announcement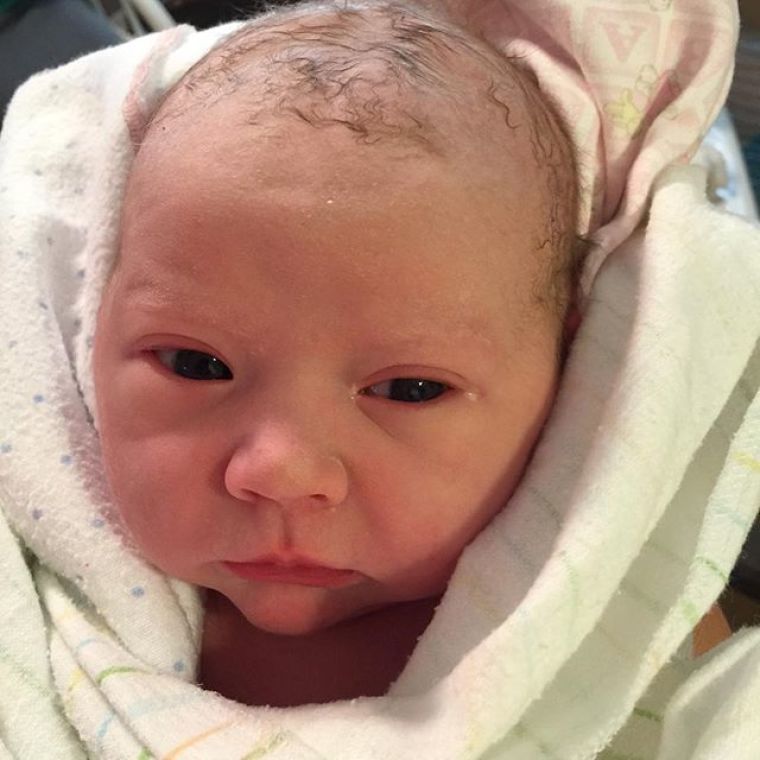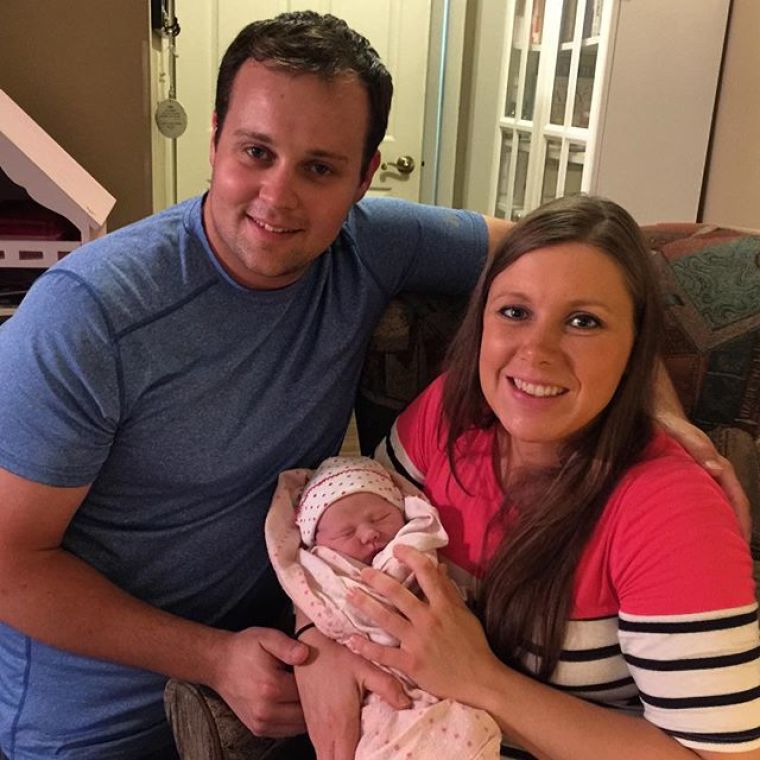 View Photos
Josh Duggar and his wife, Anna, welcomed the birth of their fourth child on Sunday, more than one week after her expected due date.
In a touching Instagram post shared yesterday, Josh announced that Anna gave birth to a healthy baby girl named Meredith Grace Duggar while also sharing the first official baby photo. The former "19 Kids and Counting" star said both mother and baby are doing well.
"Announcing the arrival of Meredith Grace Duggar! 7 pounds 14 ounces, 20-1/2 inches — Anna and Meredith are resting and doing well!" Josh wrote to his 549,000 followers.
The Duggar family's patriarch Jim Bob, and his wife, Michelle, filmed an announcement via social networking site YouTube.
"Hi, this is Jim Bob and Michelle Duggar, parents of "19 Kids and Counting," and we have an exciting announcement," Jim Bob begins. "Josh and Anna just had their fourth child. That gives them two boys and two girls. Little Meredith Grace was born and how much did she weigh, Michelle?"
The family matriarch added: "She weighed 7 pounds and 14 ounces and Anna did an amazing job through labor. ... Sweet little Meredith Grace is beautiful and I know that McKenzie, Michael and Marcus are just loving having their litte sister here."
Last week, the famous Duggar family requested prayers for Anna, who was due to give birth on July 10, after it was revealed that she had passed her due date. The birth of baby Meredith marks the first time that Josh and Anna, both 27, did not feature one of their children being born on their recently canceled reality TV show.
On Thursday, less than one month after TLC suspended "19 Kids and Counting," the network announced that it had permanently scrapped the long-running reality TV series due to a decade-old molestation scandal involving Josh and at least two of his sisters, Jill, 24, and Jessa, 22.
In a Facebook post shared shortly after TLC's announcement, the Duggar family said that they are "thankful" to have had a platform to share the Gospel for so many years. They also shared their hopes that their story might propel others closer to God.
"With God's grace and help Josh, our daughters and our entire family overcame a terrible situation, found healing and a way forward," they wrote. "We are so pleased with the wonderful adults they have all become.
"It is our prayer that the painful situation our family went through many years ago can point people toward faith in God and help others who also have lived through similar dark situations to find help, hope and healing, as well."
Josh and Anna have kept a relatively low profile since the scandal broke and they have since relocated from Washington, D.C. to Tontitown, Arkansas, to be with his family.
The scandal sparked a firestorm of criticism and led to Josh resigning from his position as a executive director with Family Research Council Action. He also issued a heartfelt apology, which stated that he's "deeply sorry" for what he described as "my wrongdoing."
Both Jill and Jessa said publicly that they have since forgiven their older brother for his actions and in May, Anna expressed support for her "changed" husband, whom she said had previously confessed his sins to her before they were married in 2008.
"I can imagine the shock many of you are going through reading this. I remember feeling that same shock," she said in a statement.
"When my family and I first visited the Duggar home, Josh shared his past teenage mistakes. I was surprised at his openness and humility. ... When Josh asked me to marry him ... I was able to say, 'Yes' knowing who Josh really is — someone who had gone down a wrong path and had humbled himself before God and those whom he had offended."