Joyce Meyer Ministries' 'Love Life' Conference Sees 6,000 Women Choose Christ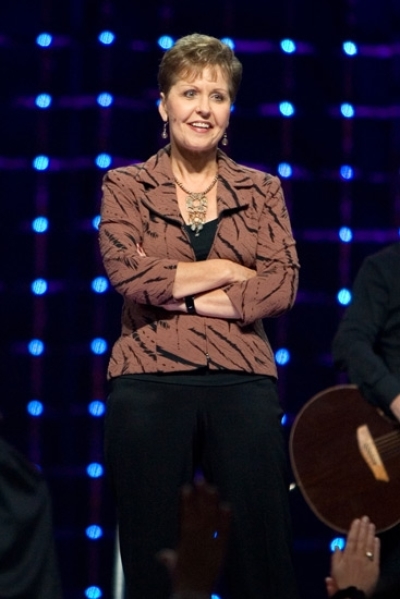 Joyce Meyer Ministries celebrated the 30th anniversary of its "Love Life Women's Conference" in St. Louis, Mo., this past weekend, showcasing keynote speakers such as Joel Osteen and Christine Caine at the event where an estimated 6,000 women converted to Christianity.
"Teachings by Christine Caine made them laugh. Dave Meyer got them fired up on America and attendees saw a different side to Joel Osteen when he cried," Joyce Meyers Ministries shared in a press release after the three-day conference.
The conference, which took place from Sept. 20-22 at the Edward Jones Dome in St. Louis, was described as by the ministry as a "celebration of the power of hope."
The Examiner reports that of the estimated 27,000 women who attended, close to 6,000 women "committed their life to Christ during the conference."
The Christian Post attempted to contact the Joyce Meyer Ministries for comment on the "Love Life Women's Conference," but did not receive a response by time of publication.
Attendees of the conference took to Twitter to express their gratitude to Joyce Meyer Ministries for the conference and also their feelings of inspiration from the speakers.
"So proud of the greatest wife in the world Christine Cain, she is on fire preaching at the love life Joyce Meyer women's conference #proud," tweeted Nick Caine, husband of Christine Caine.
"You guys, God saved 4,982 people at the Love Life Women's Conference last night. He is real and He is alive!" tweeted Stephen Lovegrove.
Music at the event was performed by Darlene Zschech, Mandisa, Kari Jobe, and Fuzed Worship.
According to a press release issued after the conference, the conference also supplied a free concert for Mandisa, "American Idol" finalist, to St. Louis residents on Friday, Sept. 21.
The payment for attending the concert was any sort of infant care items. The initiative was organized by Supply Hope, a domestic outreach center which partners with Joyce Meyer Ministries and helps local residents.
The concert raked in 3,600 packages of infant care items, which were donated to the St. Louis Dream Center, an inner-city outreach program which serves the 21st ward of the city.
Joyce Meyer Ministries is based in the St. Louis suburb of Fenton. Meyer's most recent book, Change Your Life, was listed as number four on The New York Times bestseller list this past week.