Judge blocks Trump admin's new rule limiting number of asylum seekers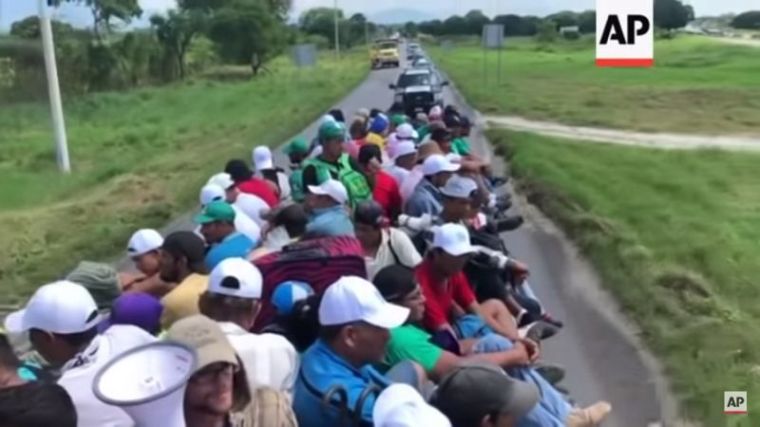 A judge in California blocked President Donald Trump's new policy of barring asylum for migrants who enter the nation illegally, noting that it goes against federal law.
U.S. District Judge Jon Tigar of San Francisco ruled on Monday that the Trump administration's policy violated the 1965 Immigration and Nationality Act.
"The rule barring asylum for immigrants who enter the country outside a port of entry irreconcilably conflicts with the INA and the expressed intent of Congress," wrote Judge Tigar, as reported by USA Today.
"Whatever the scope of the President's authority, he may not rewrite the immigration laws to impose a condition that Congress has expressly forbidden."
Tigar's restraining order is temporary, expiring on Dec. 19, when a court case over the new rules begins.
Earlier this month, the Trump administration announced a plan to limit the number of asylum seekers coming to the United States. This included Trump signing a presidential proclamation that stated: "aliens who enter the United States unlawfully through the southern border in contravention of this proclamation will be ineligible to be granted asylum."
"Those aliens may, however, still seek other forms of protection from persecution or torture," continued the proclamation. "In addition, this limited suspension will facilitate ongoing negotiations with Mexico and other countries regarding appropriate cooperative arrangements to prevent unlawful mass migration to the United States through the southern border."
President Trump's efforts to reduce the number of asylum seekers came in response to the approach of the thousands-strong migrant caravan from Central America.
At one point estimated to have around 7,200 men, women, and children, the caravan entered Mexico last month and is expected to get to the USA's southern border soon.
Their headline-grabbing presence has reignited political debate over immigration policy, including the admission of refugees and President Trump's much-promoted border wall.
The Rev. Franklin Graham, a prominent evangelical leader who supports Trump, took to his official Facebook page to comment on the caravan situation on Monday.
While expressing concerns over the nature of the caravan and that "there are also violent criminals mixed into this crowd," Graham called for prayers for all involved.
"Let's pray for the people in the caravan. Pray for our border police and military that they make the right decisions, and pray for President Donald Trump as he responds to this issue. We don't want people on either side of the fence to get hurt," he stated.