Judge lifts worship restrictions on DC churches in time for Holy Week services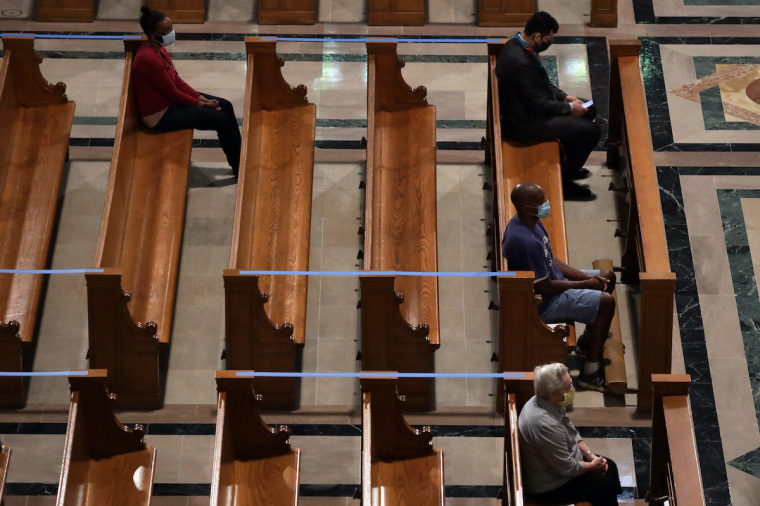 Churches in Washington, D.C. can hold in-person services without being limited to 25% capacity or 250 people after a federal judge lifted the city's coronavirus restrictions on houses of worship.
D.C. Mayor Muriel Bowser's "approach to regulating houses of worship," which allowed churches to host only up to 250 people or 25% of the building's maximum capacity, whichever was less, "reflects a lack of adequate consideration for constitutional rights," Judge Trevor N. McFadden ruled late last week. 
McFadden's ruling raises the capacity limit in churches to 40%, and churches must adhere to social distancing guidelines.
McFadden, who was appointed by former President Donald Trump to the U.S. District Court for the District of Columbia in 2017, ruled that the city's capacity restrictions "discriminate against houses of worship." The judge pointed out that the city has allowed residents to buy alcohol or get restaurant takeout as "essential" services, but that label was not extended to churches.
"Yet, after the District's repeal of the same limit on '[f]ood sellers and big box stores selling a range of essential and non-essential goods,' those entities are subject to no maximum-capacity limitations," the judge wrote in his opinion.  
"They need only 'limit occupancy to the extent necessary for safety' and 'make plans that provide for safe social distancing between persons.' So 'while a synagogue or church may not admit more than [25 percent capacity or 250] persons,' more favored businesses 'may admit as many people as they wish.'"
The ruling comes in response to a lawsuit filed against the city by the Roman Catholic Archbishop of Washington seeking an injunction ahead of Holy Week, which begins on Palm Sunday.
"In practical terms, this means that the Archdiocese's churches must stop admitting parishioners once they become a quarter full, but Whole Foods or Target can take in as many customers as they wish while complying with social-distancing requirements," the judge stated. 
"[T]he District's 25 percent and 250-person restrictions would not apply to its churches if they hawked wares instead of proclaimed the Gospel," he added.
The city argued that the difference between its restrictions and one allowing churches to operate at 30% to 40% capacity is minimal. However, McFadden argued that the city's rules would force the Cathedral of St. Matthew to turn away anywhere from 50 to 150 parishioners that it could otherwise seat if the capacity limit were higher. 
"And the Archdiocese says that the 250-person limit requires the Basilica to turn away approximately 750 worshippers that it could otherwise hold under its own protocols," the judge wrote. "Anyone who has attended or performed in a concert knows instinctively that a largely empty hall and full house provide two very different experiences."
According to the Becket Fund for Religious Liberty, D.C. joins 37 states that have "no numerical or percentage caps on attendance at houses of worship."
"D.C. houses of worship are now free of arbitrary numerical limits and may welcome as many worshippers as can safely attend wearing masks and social distancing," the legal nonprofit tweeted.
"D.C.'s restrictions unfairly singled out worship services and mandated arbitrary numerical attendance caps regardless of building capacity. All other states have loosened their restrictions on in-person worship but it seems that D.C. never got the memo."  
The Liberty Counsel, a conservative religious freedom legal nonprofit, also praised the judge's ruling. 
"Judge Trevor McFadden clearly acknowledges that the First Amendment does not disappear because of Coronavirus," Liberty Counsel Founder and Chairman Mat Staver said in a statement. "Mayor Muriel Bowser has clearly discriminated against every church in D.C. while participating in a mass gathering of protestors with no limitations. This unequal treatment of churches is unconstitutional. We will continue the fight until religious freedom is totally restored." 
Last October, McFadden ruled in favor of Capitol Hill Baptist Church by striking down Bowser's restrictions on outdoor church services of more than 100 people as a violation of the Religious Freedom Restoration Act. The ruling allowed the church to resume in-person outdoor services. 
"It is for the church, not the District or this court, to define for itself the meaning of 'not forsaking the assembling of ourselves together,'" McFadden wrote in the ruling, citing Hebrews. 
Bowser introduced rules limiting in-person services to 250 people or 25% of the building's maximum capacity before Christmas. Bowser's previous coronavirus order said worship services could not have more than 50 people even if a church's capacity were 10,000.
Bowser at the time called on Christians to celebrate Christmas virtually. 
"I have great faith in D.C. Catholics. I'm one of them," she said at a press conference at the time. "This year is not the year to pack churches full of people."
In February, a federal court permanently blocked even stricter restrictions placed on houses of worship in New York after the U.S. Supreme Court issued a temporary injunction last November.
The guidelines applied to all houses of worship listed in red and orange zones throughout the state. In red zones, churches were subject to a 25% maximum occupancy or a maximum of 10 people. In orange zones, places of worship were subject to a limit of 33% occupancy or 25 people, whichever is fewer.