Kathie Lee Gifford Speaks Out After Matt Lauer's Firing: 'Only God Can Heal ... All Have Sinned'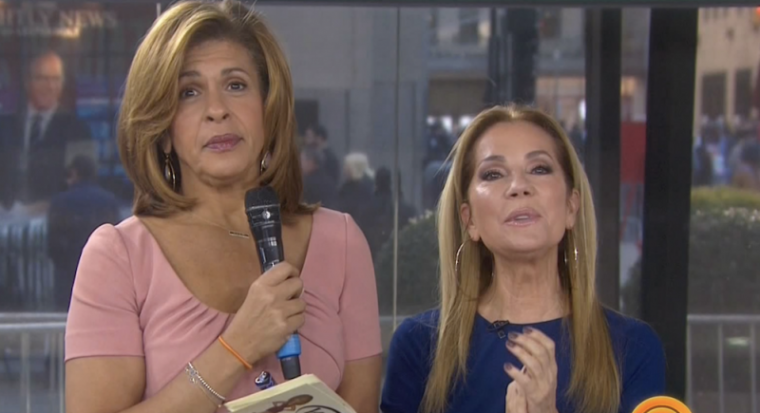 "Today" show co-host Kathie Lee Gifford called for forgiveness after hearing that her longtime friend and colleague, Matt Lauer, was fired by NBC after a "detailed complaint from a colleague about inappropriate sexual behavior."
On Wednesday, Gifford and her co-host Hoda Kotb opened their 10 a.m. segment by addressing the news that the popular 59-year-old anchor had been terminated by NBC News. NBC Chairman Andy Lack released a statement that the network received an "inappropriate sexual behavior" complaint from a colleague with reason to believe "this may not have been an isolated incident."
The news was announced early Wed. morning by Lauer's co-anchor Savannah Guthrie, who was noticeably shaken.
"It's a very, very sad day here at NBC," Gifford began her segment.
After the two women called Lauer "friend," Kotb admitted that coming to terms with all of this is "going to take a lot of time."
"I'm grappling with [whether] I should even share something — but I guess I really should," Gifford interjected.
Gifford compared this news to the feeling she had the time she found out about an affair her late husband Frank Gifford had in 1997 with a flight attendant. At the time, the couple told PEOPLE in a statement that the experience had "been as painful for us as it would be for any other couple," but they got through the affair and Gifford forgave her husband.
"I don't feel that Matt has betrayed us in any way at all, but when I found out that my husband had betrayed me, you question your own judgment," she explained. "You say, 'Was everything a lie?' And I think we have to fight against that, very much fight against that. That the man we know and adored was the man we loved and adored and continue to."
The outspoken Christian went on to say that as soon as she heard the news, she texted Lauer saying, "I adore you."
"No person is perfect in this world," Gifford continued. "Nobody is. We've all sinned and fallen short of the glory of God, is what scripture says. And what we need now is forgiveness, and we need mercy for one another. We don't need taunts and we don't need ugliness. We have enough of that in the world. I send out my love right now to the person, whoever it is, that came forward. May God heal that person. I send it to Matt, and his children and his wife — may God bless that family and heal. I'm sorry, Hoda, but in my long life, the only thing I've ever been sure of is that only God can heal it. And there's no bad time to reach out for his help."
Gifford shared that she received great advice on "forgiveness" from an advisor during her difficult time with her husband. She encouraged the same extension of "forgiveness" and "mercy" about this Lauer news.
"We are all so broken. We need somebody to put us back together. And it's possible, it's so possible. I'm living proof of it. Didn't mean to go to church, but that's where we needed to go today," Gifford concluded.
The shocking news on Lauer broke Wed at 7 a.m. by Kotb and Guthrie, who read the official statement. See the full statement below.
"On Monday night, we received a detailed complaint from a colleague about inappropriate sexual behavior in the workplace by Matt Lauer. It represented, after serious review, a clear violation of our company's standards. As a result, we've decided to terminate his employment," said Lack. "While it is the first complaint about his behavior in the over twenty years he's been at NBC News, we were also presented with reason to believe this may not have been an isolated incident.
Our highest priority is to create a workplace environment where everyone feels safe and protected, and to ensure that any actions that run counter to our core values are met with consequences, no matter who the offender.
We are deeply saddened by this turn of events. But we will face it together as a news organization — and do it in as transparent a manner as we can. To that end, Noah and I will be meeting with as many of you as possible throughout the day today to answer your questions."