Kelly Ripa 1996 Photo Goes Viral: TV Host Shows Off Wedding Day Photo With Mark Consuelos (VIDEO)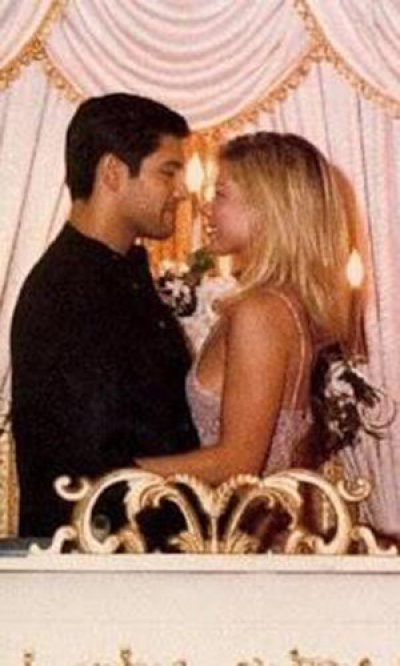 Kelly Ripa has posted a 1996 photo on her Twitter page, showing herself and husband Mark Consuelos together 17 years ago.
The photo shows the couple together looking ecstatic on their wedding day, and fans of Ripa have praised the picture that has now gone viral.
Ripa can be seen in her wedding dress, and her husband can be seen in a black shirt; the pair can be seen looking into each other's eyes posing for the camera on their big day.
The TV host tweeted that she still loves her husband as much as she did 17 years ago.
Just earlier this year Ripa made a Botox admission, surprising many of her fans.
The talk show host admitted that she uses injections to keep her skin from sagging.
The 42 year old was not shy about revealing the secret to maintaining her youthful looks. In an interview with Elle, she admitted that she regularly receives injections, including Botox, and that it all goes to helping her skin not sag, according to Radar Online.
Ripa has always adamantly denied ever going under the knife to maintain her looks, however, she openly admitted to receiving less invasive help through the injections.
Speaking to Elle, she also explained how she received Botox injections in her armpits, as well as her face regularly.
She said, "Every seven months or so my eyelid skin rests on my eyelashes. So I feel like it makes my makeup artist's life easier, and it makes my eyes look a little more open on TV, which is where I happen to work right now."
Ripa played Hayley Vaughan on the television soap opera All My Children from 1990 through 2002, and is best known as co-host of the popular syndicated morning talk show Live! With Kelly and Michael.
She is also well-known for her role as Faith Fairfield on Hope & Faith.
Despite being better known for her roles on television, Ripa also has several feature films to her credit. She appeared in the acclaimed Miramax feature Marvin's Room in 1996, which also co-starred Meryl Streep and Leonardo DiCaprio.
In 1999, she won the Best Actress Award at the New York International Independent Film and Video Festival for her work in The Stand-In.
More recently, she was part of the voice cast of the computer-generated animated feature Fly Me to the Moon.
Kelly Ripa's Flashback Wedding Photo
Kelly Ripa's Botox Confessions