Kellyanne Conway Says Her Job Would Be 'More Difficult' If She Wasn't 'a Person of Faith'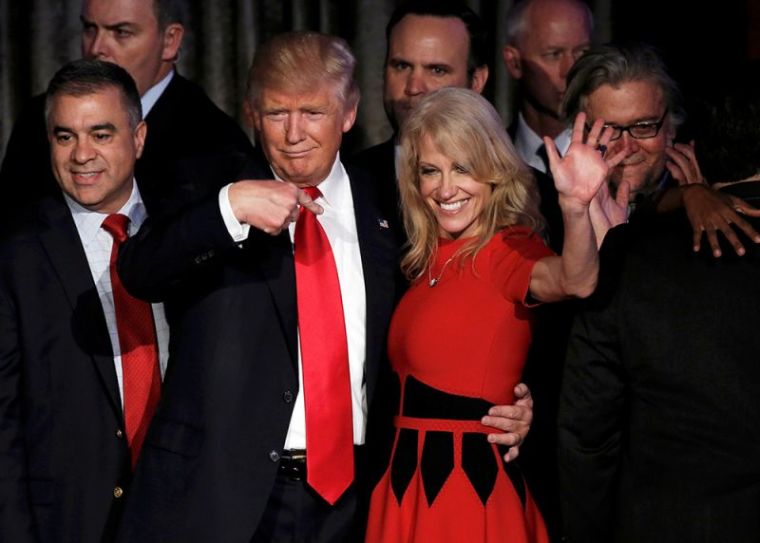 President Donald Trump's senior adviser, Kellyanne Conway, says that ignoring the criticisms that come with her job would be more difficult if it were not for her faith in Jesus Christ.
The 50-year-old Conway, who became the first woman ever to lead a successful presidential campaign when Trump beat Democrat Hillary Clinton last November, spoke to a crowd of over 900 Christian conservatives in Iowa last Saturday when she took part in the annual Family Leadership Summit, hosted by the Iowa-based social conservative group The Family Leader.
During the event, Conway, who was a prominent conservative pollster before she was hired by Trump to be his campaign manager in August 2016, was interviewed by Family Leader President Bob Vander Plaats on stage.
Conway was asked how she has been holding up now that she is a counselor to President Trump, works out of the White House and constantly finds herself in the thick of the Republican administration's battle with the mainstream left-leaning media and the political left.
"It is just our job to focus on the news and cut out the noise," Conway said. "That is something I try to do very often. But you know, if I wasn't a person of faith, I think it would be a more difficult job."
Conway was raised in a Catholic household by a single mother in southern New Jersey. She explained that her mother constantly worried about her when she was growing up, knowing that the odds were stacked against her statistically since she was growing up without her father around.
Conway, who attended Catholic schools from kindergarten through college, grew up to become a successful conservative pollster who was the CEO of the The Polling Company Inc./Woman Trend before becoming Trump's campaign manager last year. But thanks to Trump, Conway said that she was able to reach her "American dream unexpectedly."
Considering that she is now working out of the White House as one of Trump's closest advisers and often appears on television to defend the president, she explains that she knows what it is like to experience an immense amount of criticism from political opponents.
"I don't need accolades and gold stars but I think we all deserve respect. That's what is so surprising," Conway said when asked about the criticism she receives. "You are asking me if I was surprised. I tend to be an optimistic, sunny person. I guess it's just disappointing — if you can't say 'congratulations,' then don't say anything at all. I understand that we are a nation of charged opinions and partisan anger but I do find that most of the vitriol comes from people who don't know me and are very brave on social media."
Conway argued that she feels a lot of the criticism thrown at her has been "gender-based."
"It is unbelievable how if I just say something on a television program or the president said something, the reaction is so disconnected from what was just said. If you want to disagree on policy ... then say that, disagree that way. That is what America is. But so much of the criticism of me is gender-based," she said. "So much of it is gender based. ... I pray for the country and I pray for my critics.
"If they are going to criticize policy, that's terrific. But criticizing how I look or what I wear or how I speak is really remarkable and totally undercuts modern feminism, that they are for women. I think a lot of it turned when I showed up at the March for Life and I was overtly a pro-life counselor to the president. A lot of the coverage changed then."
Conway added that despite the criticism she receives, she doesn't pay much attention to it.
"If I sat at the White House all day and read about myself, I am not doing my job. If I sit at the White House and I feel that when President Trump said 'the forgotten men' or 'forgotten women,' he didn't mean those forgotten in your communities, forgotten in your churches and synagogues, he meant forgotten by the swamp, the system, the special interests and that is why we are there."
"I think if you are person of faith, it helps you to stay grounded and to remember why you are there," she added. "I am incredibly moved by the many, many people who approach me in person, or write or email, text or call the White House just to say ... 'Thank you so much. Thank you for being a role model to my daughters and granddaughters.'"