Ken Ham Slams 'Evil World' as Abortion Group Uses Hurricane Harvey to Raise Funds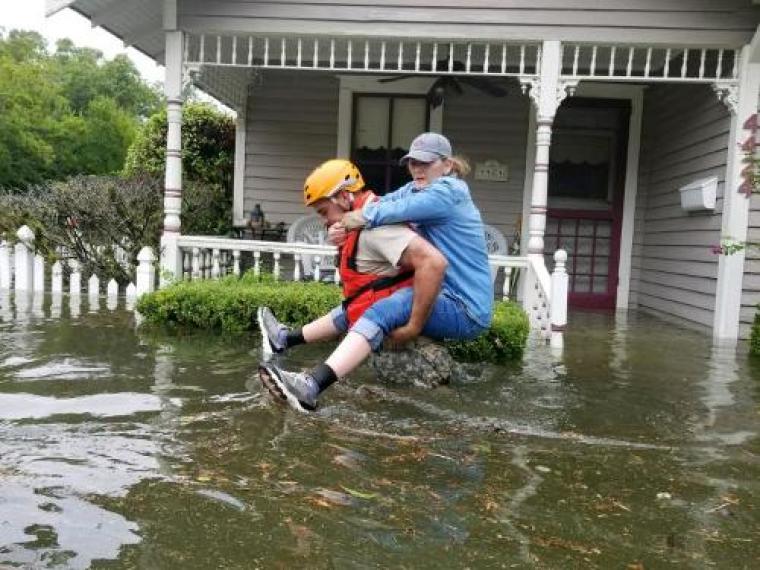 Young Earth Creationist Ken Ham says the world is a "sad" and "evil" place amid reports that a pro-abortion group is using the aftermath of Hurricane Harvey as an opportunity to raise money under the guise of helping women.
"So, support this particular Hurricane relief fund and help mothers murder their children in the womb," Ham wrote on Facebook on Monday, adding: "Sad, evil world."
As Fox News reported, the Lilith Fund for Reproductive Equity set up a fund last week reportedly to help women affected by the storm who are seeking abortions. In a previous interview with The Christian Post, the Lilith Fund said it doesn't cover the full cost of abortions for women, but offers $50 to $75 toward an abortion in some cases, if they can prove financial need.
Amanda Williams, the group's executive director, said many abortion clinics in the Houston area are temporarily closed and have canceled appointments.
"All people deserve the rights and resources they need to live safely, freely, and with dignity and support," Williams argued, noting that appointment delays caused by Hurricane Harvey could greatly increase the cost of an abortion for some women as clinics charge more money the further along a mother is in her pregnancy.
Several others have criticized the donations fund as well, including Sean Davis, co-founder of The Federalist.
"This is a great investment if you think the biggest problem with Harvey is that it didn't kill enough people," Davis wrote on Twitter last week.
The Blaze also took aim at a number of pro-choice groups that backed the Lilith fund, including NARAL and The National Network of Abortion Funds, and listed a number of other Twitter responses to the issue.
NARAL argued in an article in Romper that women in Texas seeking abortions now need help more than ever before, and are in danger of being overlooked.
The Blaze, whose owner, best-selling author and radio personality Glenn Beck, famously clashed with former pundit Tomi Lahren over abortion, suggested that Texas has more pressing issues to deal with than collecting money for such procedures.
"Considering that water rescues are still ongoing and recovery efforts will take months, possibly even years, it wouldn't be far-fetched to say that NARAL's interests are a bit out-of-touch," The Blaze wrote.
"But never waste a good opportunity to raise money for your sinister organization, right?" it added.