Ken Ham's Ark Encounter Lit Up in Rainbow Colors for Christmas (Watch)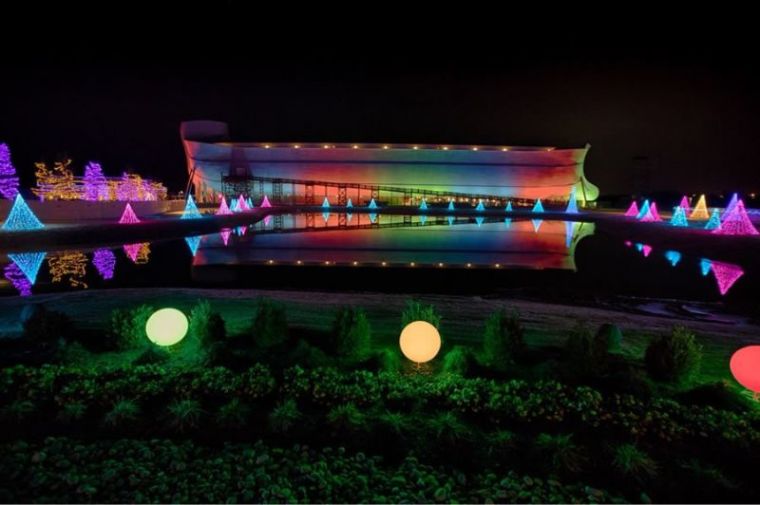 The Ark Encounter theme park in Williamstown, Kentucky, has been lit up in rainbow colors for Christmas to remind people of God's covenant with Noah in the Bible. 
"The rainbow itself wasn't designed to be a symbol of freedom, love, pride, or the LGBTQ movement," said Ark Encounter President Ken Ham, a Young Earth Creationist, in a Facebook post on Wednesday. "God created this beautiful, colorful phenomenon and designated it as a sign of His covenant with Noah and his descendants forever." 
"Sadly, people ignore what God intended the rainbow to represent and proudly wave rainbow-colored flags in defiance of God's command and design for marriage. Because of this, many Christians shy away from using the rainbow colors," he added.
"But the rainbow was a symbol of God's promises before the LGBTQ movement — and will continue to be after that movement has ended. As Christians, we need to take the rainbow back and teach our young people its true meaning."
An article on the Answers in Genesis website further explains the story behind the rainbow and its association with the Ark, noting that in Genesis 9:9–11, God makes a covenant with Noah, his family, their descendants, and the living creatures on the Ark, vowing that "never again shall there be a flood to destroy the Earth."
"The rainbow stands as a poignant reminder that God keeps His promises," the article states.
"Despite the wickedness in the world, God has not sent another global flood to destroy all flesh."
Back in July, at the opening of the Ark Encounter, Ham told The Christian Post in an interview that the life-sized Noah's Ark theme park is a symbol of the Christian message to the world.
"In a world that is becoming increasingly secularized and biased, it's time for Christians to do something of this size and this magnitude," Ham told CP at the time.
"To remind the coming generations of the truth of God's Word. It's our way of presenting the truth of God's Word to the world," he added.
 The late Kenneth L. Hutcherson, the former senior pastor and co-founder of Antioch Bible Church in Redmond, Washington, also called on Christians to stand up and "take back" the rainbow symbol.
"How did we get here? Just when was this symbol liquidated of its meaning? When was the sign pointing to God's promise intentionally co-opted to point to a certain lifestyle choice?" asked Hutcherson, who died in December 2013, in a commentary in April 2012.
"Let's just say that the homosexual movement has been busy over the last couple of decades and that many of these changes have taken place without so much as a peep from the larger Christian community. Rome's burning; Nero's fiddling; and Christians are taking a well-deserved nap."