Kentucky must pay $270K for banning large worship gatherings during pandemic: appeals court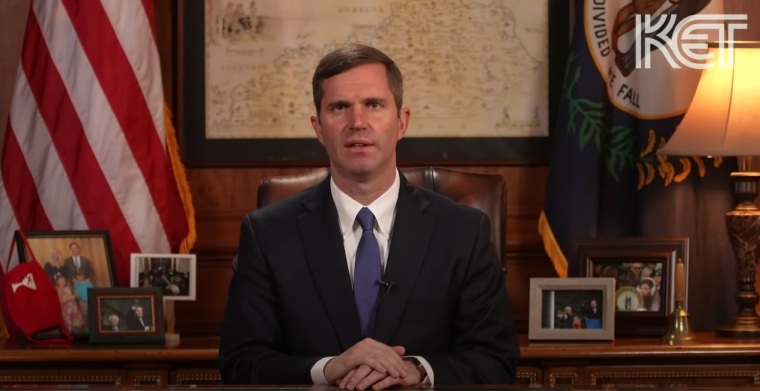 A federal appeals court has upheld a lower court ruling ordering Kentucky to pay more than $270,000 in legal fees in response to a lawsuit over Gov. Andy Beshear's coronavirus worship restrictions.
A ruling handed down by a three-judge panel on the 6th U.S. Circuit Court of Appeals Monday upholds a district court's decision ordering the state government led by Gov. Beshear to pay $272,142.50 in legal fees to plaintiffs over restrictions on mass gatherings imposed in 2020 to mitigate the spread of the coronavirus.
The plaintiffs, T.J. Roberts, Randall Daniel and Sally O'Boyle, attended an Easter service at Maryville Baptist Church on April 12, 2020, at the height of the lockdowns.
At the time, an executive order implemented by Beshear prohibited Kentucky residents from attending "mass gatherings," including church services. Shortly after they attended the Easter service, the plaintiffs received notices indicating that state officials were aware of their presence at the service and warned them of future "enforcement measures," including possible misdemeanor charges.
This prompted the plaintiffs to file a lawsuit against Beshear and other state and local officials.
Judge David Hale, appointed to serve on the U.S. District Court for the Western District of Kentucky by former President Barack Obama, sided with the plaintiffs in a May 2020 decision allowing Maryville Baptist Church to hold in-person worship services. 
While Beshear appealed the order to pay attorney's fees handed down by the lower court, the 6th Circuit upheld the decision. Beshear argued that the plaintiff's attorneys billed excessive hours, used exorbitant rates, and should not receive payments for work performed after the injunctions enabling in-person worship services to take place. 
"The district court has considerable discretion in determining the amount of a fee award, and this case offers no red flags of abuse," the ruling asserted. "The court considered the Governor's arguments, assessed the evidence and the congregants' degree of success, and clearly explained its convincing 'reasons for the fee award.'" 
Roberts, one of the plaintiffs in the case, reacted to the development in a tweet Monday, expressing gratitude that "we won and the right to worship was affirmed." He shared a picture of the notice he received on his car after attending the Easter service.
The notice informed him that the state was aware of his presence at a "mass gathering prohibited by Orders of the Governor and the Cabinet for Health and Family Services." It warned that "this vehicle's occupants, and anyone they came into contact with, are at risk of contracting COVID-19."
Three years ago today, @AndyBeshearKY told the people of Kentucky that they are not allowed to attend church during a Good Friday press conference. Beshear told the people of Kentucky that church goers will have their licenses taken down and they will be forced to quarantine,… pic.twitter.com/uEx5vTVUNT

— TJ Roberts (@realTJRoberts) April 10, 2023
"This vehicle's license plate has been recorded," the notice stated. It vowed that "employees of the local health department will be contacting those associated with this vehicle with self-quarantine documents, including an agreement requiring this vehicle's occupants and anyone in the household to self-quarantine for 14 days." The notice stipulated that failure to comply with the agreement "may result in further enforcement measures." 
"I know a lot of people who are outraged that the TAXPAYER is on the hook for ANDY's violation," Roberts added. "I share this outrage, but this outrage must be aimed at Beshear. If the people of Kentucky want to quit being taxed to pay for these court judgments, Kentucky MUST elect a governor who will actually follow the constitution." 
Beshear faces re-election this fall. Kentucky votes overwhelmingly Republican in presidential and federal elections. Still, polling of the race thus far shows the Democrat with a high approval rating and a lead over all his potential Republican opponents. 
A poll conducted by Mason-Dixon in January gave Beshear a 61% approval rating. In a hypothetical matchup between Beshear and Republican Attorney General Daniel Cameron, Beshear takes 49% of the vote, followed by Cameron at 40%. In hypothetical matchups with other Republican opponents, Beshear takes 57% to Kelly Craft's 32%, he wins 52% to Republican Ryan Quarles' 35%, and he captures 53% compared to 33% for Republican Mike Harmon.