Kim Davis Office's Gay Marriage Licenses Valid Because 'Kentucky Law Favors Marriage,' Governor Says
Kim Davis Office's Gay Marriage Licenses Valid Because 'Kentucky Law Favors Marriage,' Governor Says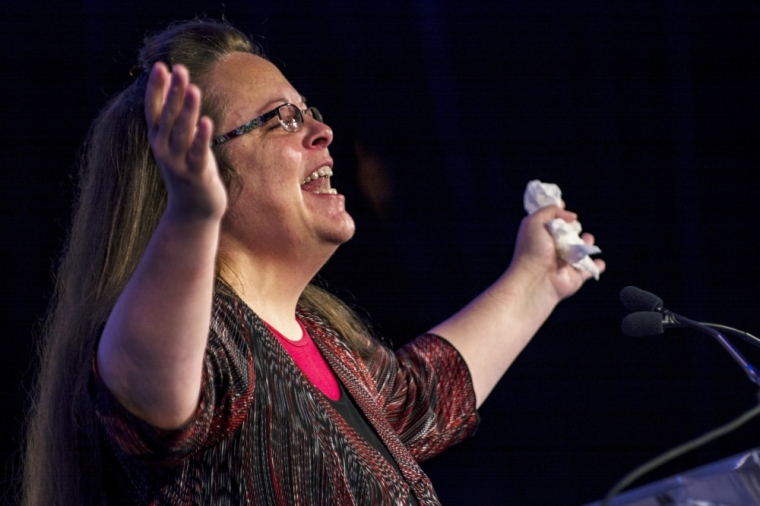 Kentucky's outgoing Democratic governor, Steve Beshear, told a court that while the marriage licenses altered by Rowan County Clerk Kim Davis due to her religious beliefs do not meet the state's legal requirements, they should still be considered valid.
The new licenses from the Christian clerk's office do not comply with state law because they do not contain her name, signature or the name of the county, and are instead issued by a notary public pursuant to a federal court order, Gov. Beshear agreed in a court filing, but added that he will recognize those licenses as "legally effective," according to The Associated Press.
U.S. District Judge David Bunning, who had ordered Davis to resume issuing marriage licenses after her refusal to do so for two months, asked Beshear last month whether the altered licenses are valid under state law.
"While the altered licenses issued by the Rowan County clerk's office do not fully comply with the statute, such deviation does not necessarily render the licenses ineffective or the marriages solemnized pursuant to said licenses invalid," Beshear's lawyer Palmer Vance II wrote in the filing. "Kentucky law favors marriage, and the presumption of the legality of a marriage is one of the strongest known to the law," Vance added.
Bunning's response is awaited.
"In light of Gov. Beshear's response and the impending executive order of Governor-elect [Republican] Matt Bevin, there is no reason for Judge Bunning to act at this time," Davis' lawyer Mat Staver has said.
After being ordered to issue licenses to same-sex couples following the June Supreme Court ruling legalizing gay marriage across the nation, Davis cited "God's authority" as the reason to defy the order. The judge ordered her arrest, and warned that any other clerk who refuses to issue licenses could also be found in contempt of court.
"God's moral law conflicts with my job duties," Davis told the judge before she spent five days in jail. "You can't be separated from something that's in your heart and your soul."
During her absence, Davis' office issued licenses. But she confiscated the marriage licenses and replaced them with new ones after returning to office.
Gov. Beshear says he is authorized only to distribute the forms to county clerks, and that neither he and nor the state's commissioner of the Department for Libraries and Archives, Wayne Onkst, who provides marriage license forms to county clerks, can "issue marriage licenses or compel Davis to issue marriage licenses."