Kim Jong Un Invites Pope Francis to North Korea as Persecution of Christians Continues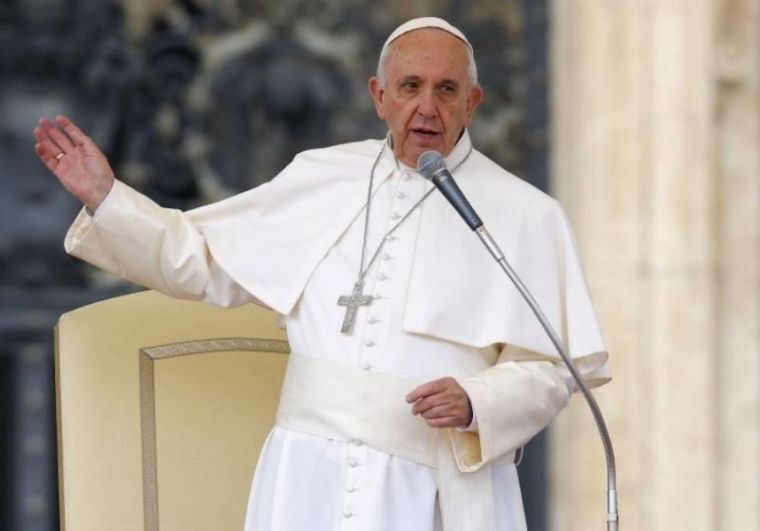 Pope Francis will be invited to North Korea to meet with Kim Jong Un in Pyongyang, the office of South Korea's President Moon Jae-in announced Tuesday.
According to Blue House spokesman Kim Eui-kyeom, the invitation will be delivered by Moon when he meets with the pontiff during his trip to Europe next week.
Moon, who is also a Catholic, is slated to be received by the pope at the Vatican Apostolic Palace on Oct. 18.
"President Moon will visit the Vatican on Oct. 17 and 18 to reaffirm its blessing and support for peace and stability of the Korean Peninsula," Kim said, according to Channel News Asia. "Especially when he meets with Pope Francis, he will convey Chairman Kim's message that he will ardently welcome him if he visits Pyongyang."
According to the South Korean presidential office, Kim told Moon during their meeting last month that Pope Francis would be "enthusiastically" welcomed in North Korea.
North Korea is run by a Kim-led Communist dictatorship known for its brutal repression of religious freedom and crackdowns on what it considers to be illegal religious activities. Non-state sanctioned worship in North Korea must be done in secrecy due to the fear of arrest.
North Korea is detaining tens of thousands of people in labor camps for worshiping or other crimes such as defection.
North Korea is consistently ranked as the worst country in the world when it comes to Christian persecution, according to the watchdog group Open Doors USA.
When asked about the invite, the Vatican did not provide comment on the likelihood that a meeting between Pope Francis and Kim would happen, according to The Associated Press.
The invite is another example of Kim's perceived willingness to participate in diplomatic relations. Over the years under the leadership of Kim's father and grandfather, North Korea has become known as a state that is isolated from the rest of the world.
In June, Kim met with U.S. President Donald Trump in Singapore where an agreement was reached to purportedly work toward denuclearization of the Korean Peninsula.
Kim also met with Secretary of State Mike Pompeo on Sunday in North Korea. A second summit between Kim and Trump is expected to happen as soon as possible. Trump told reporters Tuesday that the second meeting will not be in Singapore.
"It is happening," Trump was quoted as saying. "We're setting it up now."
Moon is scheduled to participate in a mass for peace on the Korean Peninsula in St. Peter's Basilica on Oct. 17. According to the Catholic News Agency, the mass will be celebrated by the Vatican Secretary of State Cardinal Pietro Parolin.
The invite to Francis comes after the Vatican recently agreed to a provisional deal with authorities from China's Communist government on the appointment of Chinese bishops. Under the deal, Francis recognized seven bishops appointed by the Chinese government who had previously been excommunicated.
Some critics have called the deal a "betrayal" of China's Christians, given China's horrible record on human rights and restriction of religious activities. Other critics fear that the Vatican has given up authority to China's authoritarian government.