Kindergartner Stopped From Praying at Lunchtime in Florida; Teacher Says 'It's Not Good' (VIDEO)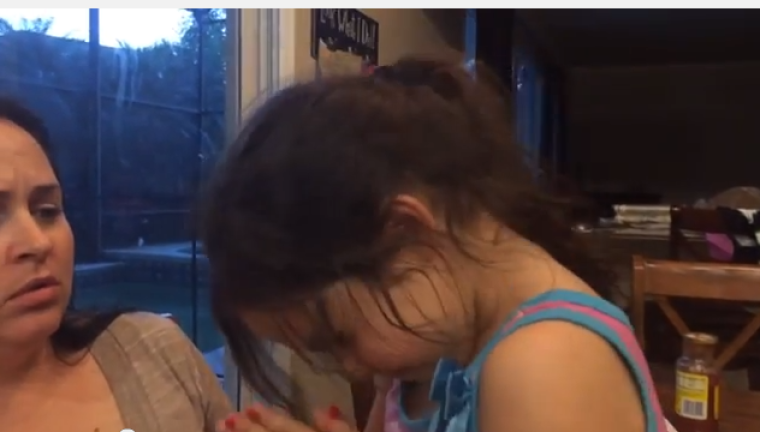 A 5-year-old wanting to pray over her lunch while at an Oviedo, Fla. school was allegedly prevented from doing so by the lunch monitor. The family of the girl has posted a video to YouTube, with her telling her story in order to bring awareness to the situation. The school has insisted that the little girl does have the right to pray, as does every student in the school.
"The lunch teacher said, 'You're not allowed to pray,'" Gabriella Perez said in the YouTube video. "I said, 'It's good to pray.' I tried to pray but I couldn't because I was caught again. She said, 'It's not good.'"
Gabriella said that the monitor stopped her when she bowed her head to pray over her lunch, which is a family tradition. Her parents, Kathy and Marcos, fully believe their daughter's story, even though the principal of the school said she could not find anyone to verify Gabriella's story.
"She wanted to pray, but she's a rule-follower," Kathy said during a news conference. "I told her she did the right thing. I don't doubt for a minute that my daughter is telling the truth."
Her father made a video of Gabriella telling her story and then posted it to YouTube because he "felt like this is a story that's important and people needed to hear."
After posting the video, Marcos contacted the principal of Carillion Elementary and told her his daughter's story. The principal, Analynn Jones, spoke to the staff and reminded them that there was no policy against prayer in the school. The school also issued a statement to the press about the situation.
"We're dealing with very young children here, so there's quite a bit of an opportunity for miscommunication to occur," a representative told WKMG News.
Gabriella has since been removed from school and is now undergoing home-schooling, which her parents say they were already considering. However, there is a bit of controversy surrounding Gabriella's story, given that her father is the vice president of sales for Charisma House, which is a Christian book publisher. The company is currently promoting the book, "God Less America: Real Stories From the Front Lines of the Attack on Traditional Values" by Todd Starnes, a Fox News host.
"I'm a father first, a VP of sales second," Marcos told the Orlando Sentinel.
Watch the video here: