Larry the Cable Guy Shares Love for the Bible With Pastor David Jeremiah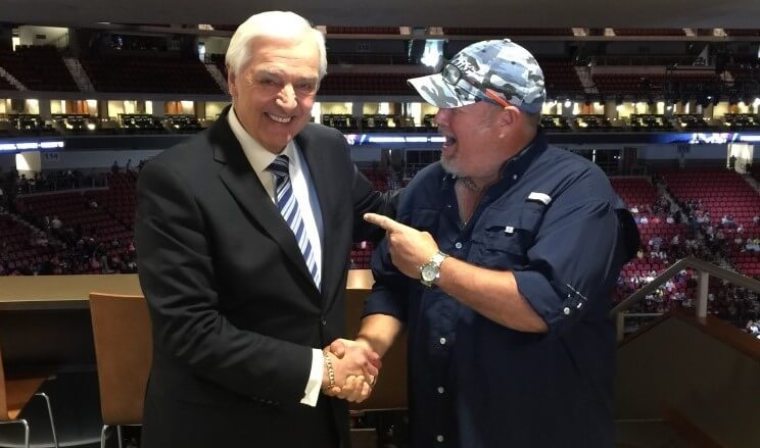 Pastor David Jeremiah met one of his biggest fans last week when he and entertainer Larry the Cable guy sat down with their wives to talk about the Bible at the minister's nationwide Stand Up Tour in Nebraska.
Jeremiah's free tour has been packing out arenas nationwide, and his most recent event, at Pinnacle Bank Arena in Lincoln, was attended by 10,000 people, and had social media buzzing because Larry the Cable Guy (Daniel Whitney) was in attendance.
Whitney didn't attend the Stand Up Tour to perform a clean version of his comedy act, he was there as a fellow believer ready to hear the Word of God preached by California's Shadow Mountain Community Church senior pastor.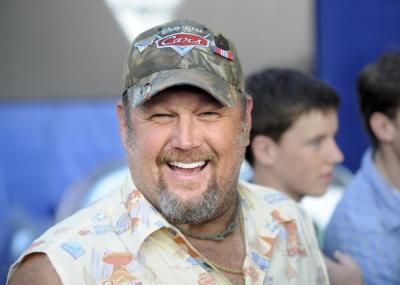 "Great time tonight with Turning Point Ministries and @davidjeremiah in Lincoln. Honored to meet him. #stu2016," the comedian, who's also a native Nebraskan, posted along with a photo on Twitter of him and Jeremiah. "This was my reaction after being asked to go up and do 10 minutes."
Whitney told The Christian Post that he's been listening to Jeremiah's sermons for several years. "I was impacted before I went there. Why do you think I went!" he quipped.
He told CP that faith is not only what's needed during life's many trials, but is equally "important even in good times."
Jeremiah and his wife spent time with Whitney and his wife at the Stand Up event, and according to the the pastor's rep, the topic of discussion was "their mutual appreciation for each other and their shared love for the Bible."
Before the Stand Up Tour in Lincoln, Whitney reached out to Jeremiah and revealed his support for his ministry during a phone conversation in which they also made arrangements to meet at the event.
Together, the two men laughed and joked, and enjoyed each others company. Whitney's wife even had her Bible signed by Jeremiah.
Headlining Jeremiah's event on the Nebraska-leg of the tour was musical guests Casting Crowns and Charles Billingsley, who led 10,000 people in worship before the evangelical leader preached on the importance of Christians standing up for the nation of Israel — a sermon inspired by his most recent trip to the Holy Land.
While Jeremiah won't be on tour this summer as he works to finish his new book, Is This the End? set to be release on Oct. 4, the Stand Up Tour will resume this fall with events in Pittsburgh, Cleveland, Greensboro and Washington D.C.
Additionally, the pastor has two Bible projects set to release at the end of the year. One will be a NIV Study Bible slated to be released in November and a new children's Bible titled, Airship Genesis Kids Study Bible.