Lauren Daigle Performs Christian Music on 'The Ellen DeGeneres Show'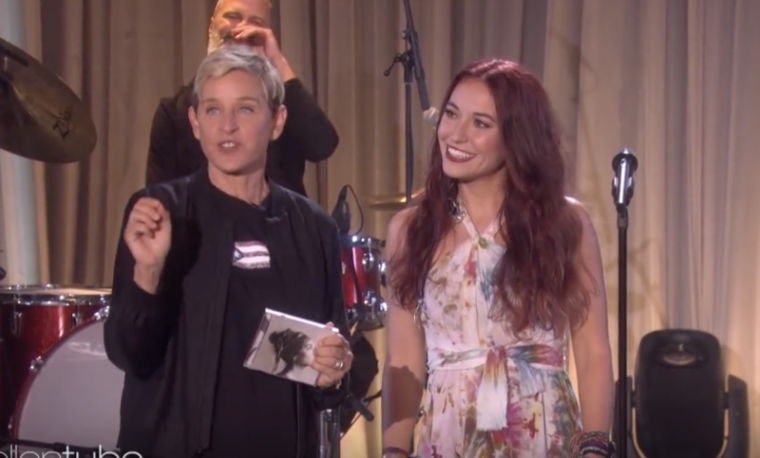 Grammy-nominated singer Lauren Daigle was featured on NBC's popular "Ellen DeGeneres Show" this week where she showcased her new Christain music.
DeGeneres called Daigle "amazing" before the Christian singer took the stage on Wednesday to perform "Rolling Stones" off of her recently released album Look Up Child.
"Six feet under/I thought it was over/An answer to prayer/The voice of a Savior/Rise up/ Rise," Daigle sang on the show.
After the performance, DeGeneres rushed on the stage, hugged Daigle and joked that the former "American Idol" alum was so successful today because DeGeneres was a judge while Daigle did a short stint on the popular singing competition.
Daigle announced her special appearance on "Ellen" in a Facebook post Tuesday, and while some praised her for it, others took issue because of DeGeneres' open lesbian lifestyle. However, as Daigle said in a recent interview with The Christian Post, she is remaining true to her call of going outside the walls of the church to share the Gospel.
"I think the passage that says, 'Go out into the world and draw people unto Him,' the Great Commission, that's what I think about in regard to the mainstream aspect," Daigle told CP in the interview. "I wasn't looking at [making my music] as in mainstream versus Christian. I was like, 'OK, what is the purest version of me? Or what is the purest thing that God has written into my spirit and how do I express that? How do I communicate that?"
The 27-year-old Louisiana native said she's not afraid to appeal to the world with her message of hope, which some fear might lead her astray and to abandon her worship roots to become a secular artist. Daigle, however, said her faith and mission in life has never been clearer.
"[My music] is having crossover appeal, but it doesn't mean that I'm leaving one for the other or that I'm going to be swept up by one thing or the other. For me, it's like, 'Oh, everything just got even more clear.' Everything just got clearer as to why it is that we go and love people who are outside of the walls of our church, outside of the walls that we're comfortable with," Daigle added.
Look Up Child debuted at No. 3 on the Billboard 200 chart upon its release in September, beating out popular secular musicians such as Drake, Ariana Grande, Nicki Minaj and Cardi B that week.