Lauren Scruggs Recovers from Propeller Accident, Takes Vacation
Lauren Scruggs has taken her first vacation since the accident involving a plane propeller caused her to lose left eye and left hand.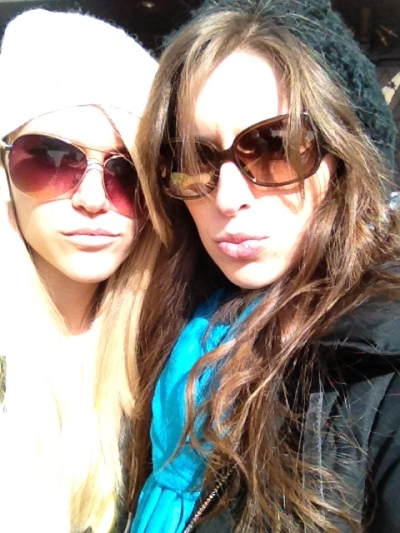 The model and fashion blogger walked into a moving propeller last December. She has fully recovered from the horrific accident, and just two months later, was spotted in Colorado last weekend.
The 23-year-old tweeted a photo of herself with her twin sister, Brittney, as the pair stand together bundled in coats and hats.
"Such a fun weekend with sweet family and friends," wrote Scruggs along with the photo.
In another post to the social media site, Scruggs added a photo of herself with a large group of people while attending a ski-jumping competition in Steamboat Springs, CO. In it, her hair covers her left eye which has been replaced with a prosthetic, and a jacket covers her left arm.
Fans and supporters of Scruggs responded to her posts with messages and love.
"So happy to see @LaurenScruggs on the mend! wrote Jenna.
Twitter user Angie wrote, "Truly inspiring. Keep doing what you're doing. Sending you positive, happy, and stylish vibes from VA!"
The pictures posted by Scruggs arrived just one week after she received her prosthetic eye. Her mother, Cheryl, described it as "beautiful" the website CaringBridge.org.
In addition to vacationing, Scruggs has resumed her normal life including working in fashion and advertising. She is the Editor-in-Chief of LoLo Magazine and is very active on Twitter.
Last week in another effort to return to normality, the blogger tweeted about her favorite jeans by the True Religion brand. "My goal: to replace my first and favorite @truereligion jeans that were taken away in Dec! So hard to find the exact match!" Noticing the post, True Religion replied to Scruggs.
"We want to help reconnect you with your favorite pair!" posted the company.
It is assumed that the jeans were lost during the accident in December, and that Scruggs will be in contact with the designer jeans company in pursuit of a new pair.
WATCH NEWS FOOTAGE AND HEAR THE ORIGINAL AUDIO OF THE 911 CALL HERE