Lawyers for Detained Pastor in China Assaulted by Crowd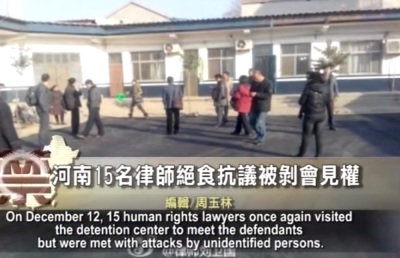 In yet another setback in their efforts to meet with a detained Christian pastor and church leaders, Chinese human rights lawyers have claimed that a crowd assaulted them on Friday.
Currently on a hunger strike protesting the government's ban on their efforts to visit church leaders detained for reportedly resisting authorities' efforts to seize church land, lawyer Liu Weiguo alleged that a brick was thrown at his head as an angry group confronted Liu and his colleagues.
 Liu told the Associated Press that a group of men and women violently – the same crowd that is also believed to have assaulted a British television crew – confronted them. Prior to the incident with the lawyers, roughly 50 women charged two Sky News employees and attempted to take their camera.
With the help of the lawyers, the crew remained in the county prosecutor's office until the crowd died down and a government official escorted the journalists out of the building, Liu reported. While the identity of the members of the crowd is unknown, according to activists, it is not uncommon for local government officials to hire residents from other areas to harass groups unfriendly to authorities.
Zhuang Shaojie, the Christian pastor, several church leaders and 20 members of his congregation have been held by government officials for three weeks and denied access to lawyers.
Zhang's church is a state-approved church, which some have suggested should have led local officials to respect both his religious and property rights; the Chinese government's crackdown on religious groups is normally limited to underground, unregistered churches.
The 15 lawyers seeking to meet with Zhang, traveled from outside provinces to the pastor's home in Nanle County in Henan, to defend what Liu told the AP was "a clear case of persecution of a religious group."
Yang Xingquan, a Beijing attorney who traveled to Nanle to help defend Zhang, said the challenge of the pastor's case lies in his country's understanding of Christianity.
"Christianity in the Chinese system does not have any real standing," said Yang. "In Nanle, if they respected or attached importance to the church, they would not try to seize their land. They would reasonably provide adequate land for the building of the church."
Zhang and his congregation's detainment comes at a time when China announced that it would be ending its re-education labor program. Government officials had sent petty criminals and those who were said to be contradicting the state's political or religious values to work camps for up to four years.