Leaders Mourn Loss of Michael Cromartie, 'the Patron Saint of Journalists'
Leaders Mourn Loss of Michael Cromartie, 'the Patron Saint of Journalists'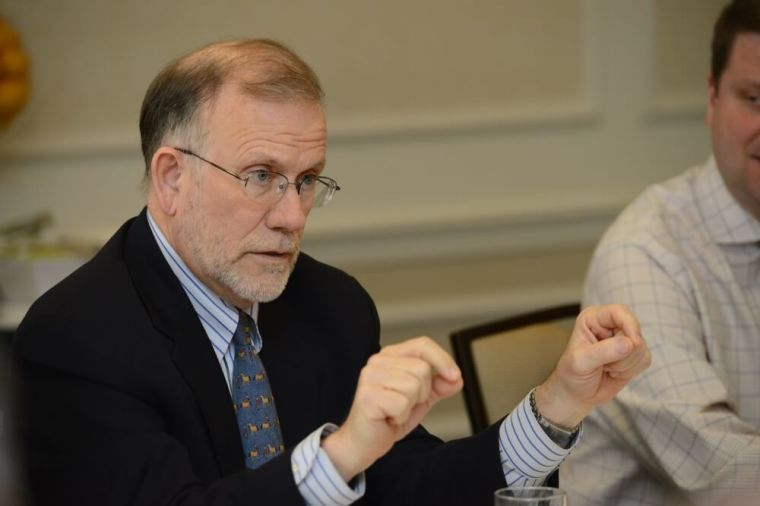 Leading Christian and non-Christian thinkers alike continue to mourn the loss of Michael Cromartie, a well-connected Washington, D.C., mover and shaker some have said should be considered the "patron saint of journalists."
Cromartie, 67, vice president of the Washington-based think tank Ethics and Public Policy Center, succumbed to a two-year long battle with stomach cancer and died earlier this week. President Bush had appointed Cromartie to a six-year term on the U.S. Commission on International Religious Freedom in 2004 and the following year his colleagues elected him USCIRF chairman.
"The key to knowing Michael, and I think one of the loveliest things about him, is that he actually was known largely by love," said Cherie Harder, president of The Trinity Forum in Washington, D.C., in an interview with The Christian Post Wednesday.
In a TTF memoriam piece she shared with CP, Harder cited The Atlantic's Jeffrey Goldberg, who noted that Cromartie "Loved journalists. Loved Jesus and [atheist] Christopher Hitchens, simultaneously."
One of Cromartie's widely-praised legacies is the Faith Angle Forum, an initiative he created that since 1999 has hosted semi-annual retreats for journalists and columnists to learn from prominent religious thought leaders about faith and theology. The FAF had quiet yet huge influence on the way in which the most respected writers in America understand and reported on religion, particularly on its intersection with politics.
As writer John Murdock noted in the journal First Things Thursday, the result of this professional pursuit is a much better educated press corps on matters of faith. Cromartie got the idea to do this in an interview with a reporter where he cited the book of Ephesians. This particular journalist was unfamiliar with the epistle the apostle Paul wrote to the church in Ephesus, thinking the New Testament book was a new release he had somehow missed.
Carl Cannon, Washington Bureau Chief for Real Clear Politics and who served on the Faith Angle Forum's steering committee, noted Tuesday that big-city American newsrooms are notoriously secular places and "[w]hether journalism's powers that be realize it or not, this is one of the sources of the rift between journalism and our readers, viewers, and listeners."
Yet the "indispensable" Cromartie "made it his professional mission to bridge that chasm," Cannon said, noting that in a letter to Cromartie, renowned magazine writer Peter Boyer once told him, 'You should be named the patron saint of journalists.'"
Many recalled Cromartie's particular gift for the art of friendship and his good-humored nature.
"Mike took a genuine interest in all he met, from the waiter serving his salad at Bertucci's to media all-stars like David Brooks," Murdock noted.
Writing at the Federalist Thursday, Josh Good, a program director at the Kern Family Foundation, recalled that "[e]veryone who knew him knew Mike's laugh — which wasn't showmanship."
Both Good and Harder recounted his love of "moonwalking."
Washington Post columnist Kathleen Parker remembered Cromartie fondly in a Wednesday tribute to him, calling him one of "Washington's relatively unknown elves who work diligently and without fanfare to make the world a better place." And, she noted, he "loved to dance."
"I doubt Cromartie feared death because he was a man of enduring faith, though he may have grieved the loss of a life well-lived but not yet finished," Parker said.
"He left a void that will be felt by hundreds of friends, admirers and, of course, his family. For them—and even the greater world for which he steadily prayed—the loss is immeasurable."
Cromartie was also an alum of Covenant College and a member of The Falls Church-Anglican in Falls Church, Virginia. He is survived by his wife and three children. A memorial service, which will be public, is scheduled to take place next week at McLean Bible Church in McLean, Virginia.