Lecrae Releases Music Video, 'Lord Have Mercy,' Ft. Tedashii and No Malice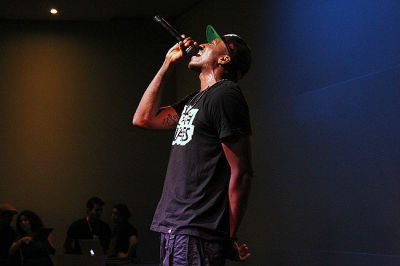 Lecrae's released the music video for "Lord Have Mercy," the first single off of his upcoming Gravity album.
The song features his Reach Records label mate Tedashii, and No Malice from the hip-hop group the Clipse makes an appearance in the video as the chorus seems to sample his voice.
Lecrae's choice of song title seems to share common ground with Kanye West's huge summer hit "Mercy," that features the brother of No Malice, Pusha T.
Like Kanye West's song, "Lord Have Mercy" features slowed down sampled vocals for its chorus along with heavy bass and an overall dark tone. The main difference between the two songs is the content, as Lecrae focuses on speaking about God and the gospel, while West boasts of his extravagant lifestyle.
The Reach Records emcee provides hip-hop fans with an edifying alternative to much of today's music that glorifies money, sex, murder and drugs.
Lecrae also recently announced that Gravity will be released on Sept. 4.
The album will feature appearances from Big K.R.I.T., Mathai and his other Reach Records label mates including Andy Mineo and Trip Lee. Producers expected to appear on Gravity include DJ Khalil, Street Symphony's Heat Academy and The Watchmen.
The rapper hopes to engage a larger audience with the new album without watering down his lyrical content.
"With the release of Gravity, I really wanted to expand on my previous work while still making sure to keep it all very authentic to who I am as an artist as well as a person," said Lecrae to AllHipHop.com in a recent interview. "When I released Church Clothes earlier this year, it was the precursor of what's to come with this album. It introduced my music to a new audience, allowing me to impact others.
Lecrae - Lord Have Mercy Ft. Tedashii