Leonardo DiCaprio Meets Pope Francis, Promises to Pray for Him (VIDEO)
DiCaprio Praises Pope as 'Inspiring and Revolutionary' Catholic Leader
Leonardo DiCaprio Meets Pope Francis, Promises to Pray for Him (VIDEO)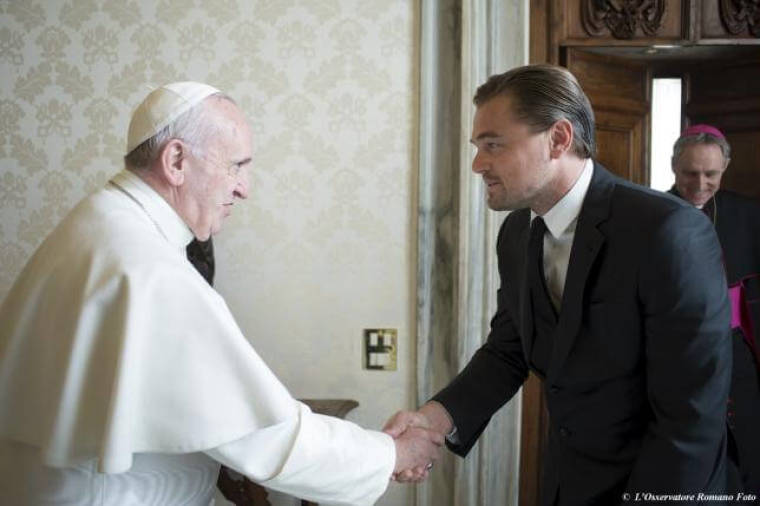 Actor Leonardo DiCaprio met with Pope Francis at the Vatican last week where the two exchanged environment-message gifts.
Vatican Radio noted that DiCaprio, who has been an outspoken activist for the environment, gave the pontiff an art book from Dutch Renaissance painter Hieronymus Bosch, alongside a check for his charity.
DiCaprio kissed the pope's ring during the encounter, which was shown on video, and opened up a page of the book depicting the famous "The Garden of Earthly Delights" triptych, which he said hung over his crib as a child.
"As a child I didn't quite understand what it all meant, but through my child's eyes it represented a planet, the utopia we had been given, the overpopulation, excesses, and the third panel we see a blackened sky that represents so much to me of what's going in in the environment," DiCaprio told the Vatican leader.
Francis in turn gave "The Revenant" actor a copy of his encyclical, "Laudato Si,'" or "Praise Be to You," which contains some of the Roman Catholic Church leader's strongest statements on mankind's responsibility toward the planet.
"The urgent challenge to protect our common home includes a concern to bring the whole human family together to seek a sustainable and integral development, for we know that things can change. The Creator does not abandon us; He never forsakes His loving plan or repents of having created us," Francis wrote in it.
At the end of their encounter, Francis asked DiCaprio to keep him in his prayers, and the actor promised to do so.
DiCaprio, who earlier in January spoke out against corporate greed at the World Economic Forum in Davos, later described his meeting with Francis as an "'incredible honor."
"He's been inspiring and revolutionary, to come out and be outspoken about the issue of climate change and endorse the scientific community," DiCaprio said backstage at the Screen Actors Guild awards on Saturday, according to USA Today.
''We have 99 percent of the scientific community now saying climate change exists and it's caused by mankind. Anyone who doesn't believe in climate change doesn't believe in science. So the fact that he has come out as the spiritual leader endorsing the scientific movement is unprecedented, and it was an incredible honor to meet him," he added.
The actor also praised Francis' encyclical, calling it "one of the most important things in climate change history. Basically, it's spreading the Gospel that we should care about the planet we live in."
"It's a sin to destroy our planet," he said.
The Leonardo DiCaprio Foundation, established in 1998, has been engaged in pressing environmental issues throughout the years, which the actor has often spoken out about, including protecting biodiversity, oceans conservation, wildlands conservation, and tackling climate change.