Lesbian UMC bishop facing complaint for saying Jesus held 'bigotries,' is being made into 'an idol'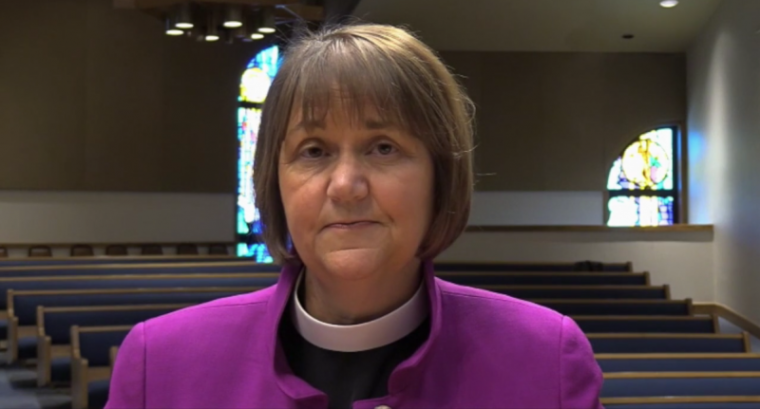 A United Methodist Church bishop whose election was declared invalid by the denomination's highest court last year due to her being in a same-sex relationship is now facing a complaint over a controversial message she gave in 2017 in which she claimed Jesus had bigotries and expressed concern about making "an idol" out of Him.
In a weekly message from August 2017, UMC Mountain Sky Bishop Karen Oliveto said many people "want to box Jesus in, carve Him in stone, create an idol out of Him."
"If Jesus can change, if he can give up His bigotries and prejudices, if He can realize that He had made His life too small, and if, in this realization, He grew closer to others and closer to God, than so can we," continued Oliveto.
Robert Barnes, pastor of Mount Oak Fellowship in Mitchellville, Maryland, filed a complaint in late September against Bishop Oliveto to Bishop Robert Hoshibata of the Desert Southwest Conference and president of the Western Jurisdiction College of Bishops.
Barnes emailed The Christian Post a copy of the complaint on Tuesday, which details the theological concerns found with the Oliveto message.
"Although it is commendable and necessary for United Methodist Bishops to teach against bigotry, Bishop Oliveto's teaching does so by directly contradicting what Articles 1 and 2 of the Methodist Articles of Religion and Articles 1 and 2 of the EUB Confession of Faith, stress concerning the full divinity of Jesus Christ," read the complaint in part.
"Even beyond that, however, the Bishop's remarks are not only contrary to our theological and doctrinal standards regarding the divine/human nature of Jesus but a) they denigrate Jesus to being that type of human being we might not always have respect for, due to His alleged prejudices and b) in doing so they elevate her own beliefs to a level higher than the beliefs that Jesus had early in his ministry."
Barnes explained to CP that at present, both parties were undergoing talks for possibly reaching a "just resolution," which would involve avoiding a church trial. Because of the confidential nature of these talks, Barnes told CP on Monday that he could not comment on the complaint.
CP also reached out to the Mountain Sky Area on Monday, with a spokesperson likewise explaining that "there are confidentiality provisions that are part of the process."
In July 2016, Oliveto became the first openly gay bishop in the UMC when the Western Jurisdiction unanimously elected her bishop of the Mountain Sky Area, a regional body that includes congregations in Colorado, Montana, Utah, Wyoming and Idaho.
Oliveto faced several complaints over her election violating the Book of Discipline, with the United Methodist Judicial Council, the UMC's highest court, ruling 6-3 in April 2017 that the election of Oliveto violated church law.
"It is not lawful for the college of bishops of any jurisdictional or central conference to consecrate a self-avowed practicing homosexual bishop," read the decision, as reported by the United Methodist News Service."Under the long-standing principle of legality, no individual member or entity may violate, ignore or negate church law."
However, Oliveto remains bishop pending new developments from a "complaint supervising committee" and the denomination's special session of General Conference, scheduled for next February, in which the Church might adopt measures overturning the ban on noncelibate homosexual clergy.