LGBT Advocacy Group Unhappy 'Duck Dynasty' Cast to Attend State Fair
An LGBT advocacy group has expressed its concern that several "Duck Dynasty" cast members will attend the Iowa State Fair later this summer.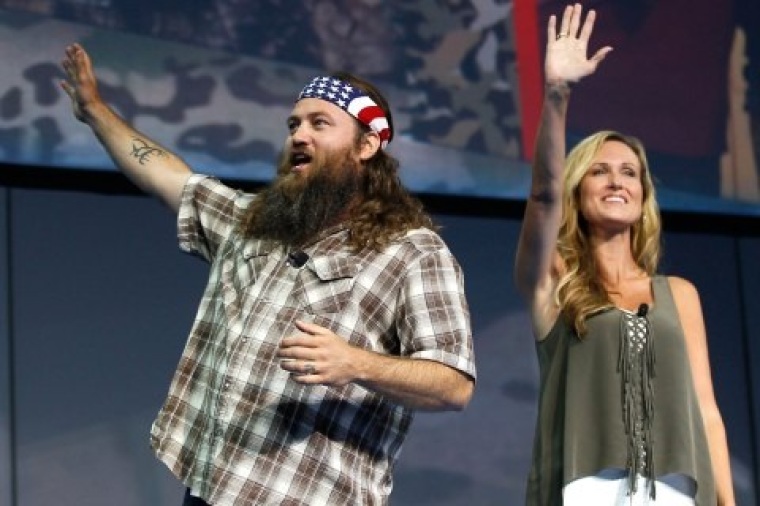 Willie, Korie and Si Robertson are scheduled to speak about their television show and family on Aug. 10. However, despite the fact that family patriarch, Phil Robertson, who was criticized in December for his remarks about homosexuality and temporarily suspended from the show, has not been invited, an LGBT activist group said it was "disheartened" with the fair organizers' decision.
"At this time, however, Willie, Korie, and Si Robertson are the only scheduled presenters," Donna Red Wing, the executive director of One Iowa said in a statement. "Patriarch Phil Robertson was quoted in an interview with GQ for his hurtful remarks regarding LGBT people, in addition to comments made about the Jim Crow South."
Red Wing called on her fellow Iowans to "show [the Robertson's] that Iowa is a place that celebrates equality, a place where families of all kinds are cherished and respected."
Tickets to see the CEO of Duck Commander, his wife and uncle are $32.
Phil Robertson's remarks on homosexuality were published in the January 2014 edition of GQ magazine. When asked to define what was sinful, Phil said it started "with homosexual behavior and just [morphed] out from there. Bestiality, sleeping around with this woman and that woman and that woman and those men."
"Neither the adulterers, the idolaters, the male prostitutes, the homosexual offenders, the greedy, the drunkards, the slanderers, the swindlers – they won't inherit the kingdom of God. Don't deceive yourself. It's not right," he added.
While the family acknowledged that parts of Phil's comments were "unfiltered" and "coarse," it defended them as "grounded in the teachings of the Bible."
The Robertson family's statement also defended Phil as a strong Christian and said he "is a Godly man who follows what the Bible says are the greatest commandments 'Love the Lord your God with all your heart' and 'Love your neighbor as yourself'."