LGBT Groups Demand Big 12 Reject BYU Over School's Biblical Opposition to Gay Marriage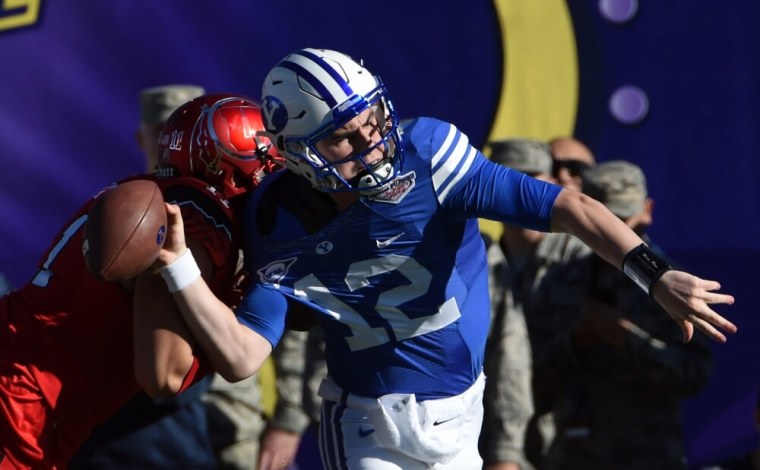 Twenty-six LGBT organizations are demanding that the Big 12 block the Church of Jesus Christ of Latter-day Saints-operated Brigham Young University from joining the athletic conference because of the institution's biblical stance on same-sex marriage.
As the Big 12 looks to expand and BYU makes its case to join the conference, Athlete Ally and 25 other LGBT advocacy groups sent a letter on Monday to Big 12 Commissioner Bob Bowlsby and the leadership of schools within the conference to warn about BYU's policies that they believe to be discriminatory toward the LGBT community.
"The Big 12 is a conference committed to sportsmanship, fair play and inclusion both on and off the playing field," the letter states. "You are known for your dedication to fans and your commitment to the welfare of your student-athletes. Adding a school like BYU to your membership while it still champions anti-LGBT policies and practices would greatly undermine these Big 12 values."
Along with Athlete Ally, the letter was signed by pro-LGBT groups like Campus Pride, National Center for Lesbian Rights, Equality Federation, National Center for Transgender Equality, National LGBTQ Task Force, Resource Center, National Organization for Women and others.
The letter contends that the Big 12 is "overwhelmingly LGBT-inclusive," with nine out of the member 10 member schools having explicit protections based on sexual orientation and have LGBT resource centers. Additionally, eight of the 10 member schools have protections for students based on gender identity.
The LGBT groups further claim "BYU, conversely, actively and openly discriminates against its LGBT students and staff. It provides no protections for LGBT students. In fact, through its policies, BYU is very clear about its intent to discriminate against openly LGBT students."
The letter states that BYU holds its right to suspend or dismiss people for being openly LGBT or in a same-sex relationship.
Students and faculty at BYU are expected to follow the school's honor code, which has a provision on "homosexual behavior." Although the LGBT organizations' letter states that BYU students can be suspended for being openly LGBT, the BYU honor code suggests otherwise.
"One's stated same-gender attraction is not an honor code issue. However, the Honor Code requires all members of the university community to manifest a strict commitment to the law of chastity," the honor code states. "Homosexual behavior is inappropriate and violates the honor code. Homosexual behavior includes not only sexual relations between members of the same sex, but all forms of physical intimacy that give expression to homosexual feelings."
On Tuesday, BYU athletic director Tom Holmoe issued a response to the letter in a message posted to Twitter.
"LGBT players, coaches and fans are always welcome to the BYU campus," Holmoe wrote. "Everyone should be treated with respect, dignity and love."
According to NBC Sports, Bowlsby also issued a statement in response to the letter.
"Thank you for your note," the conference commissioner stated. "As we move forward with our processes we will certainly take your comments into consideration. I appreciate your having taken the time to express your thoughts."
USA Today reports that one group that did not sign onto the letter was BYU's 40-member off-campus LGBT group, Understanding Same Gender Attraction. The group's president, Addison Jenkins, believes that Bowlsby should admit BYU into the conference.
Although Jenkins calls homosexuality a "taboo topic" at BYU, he believes letting the school into the Big 12 will help open dialogue between the school and the LGBT students at the school.
"I think commissioner Bowlsby should welcome BYU as a full member of the Big 12 as long as BYU's conduct meets conference standards," Jenkins said.
The Big 12 includes Texas Christians University and the world's largest Baptist university, Baylor in Waco, Texas. According to USA Today, both school grants discrimination protections based on sexual orientation, gender identity and gender expression.