'Life Is Short; Repent, Get Right With God,' Greg Laurie Says on Last Night of SoCal Harvest Crusade 2015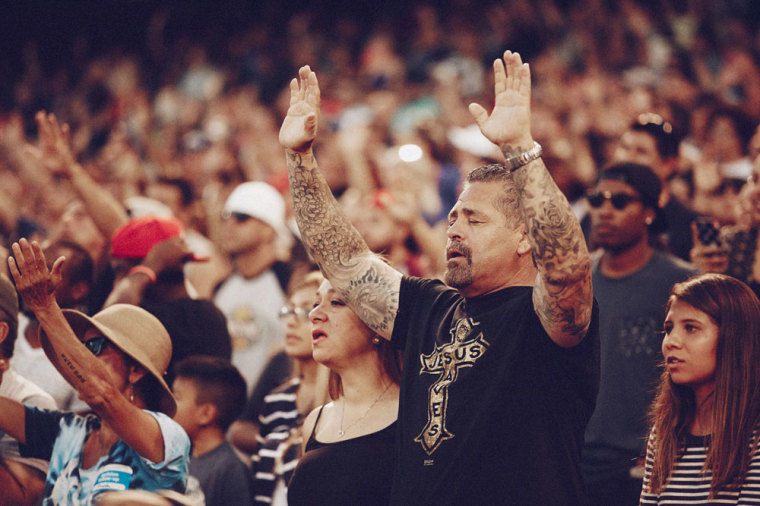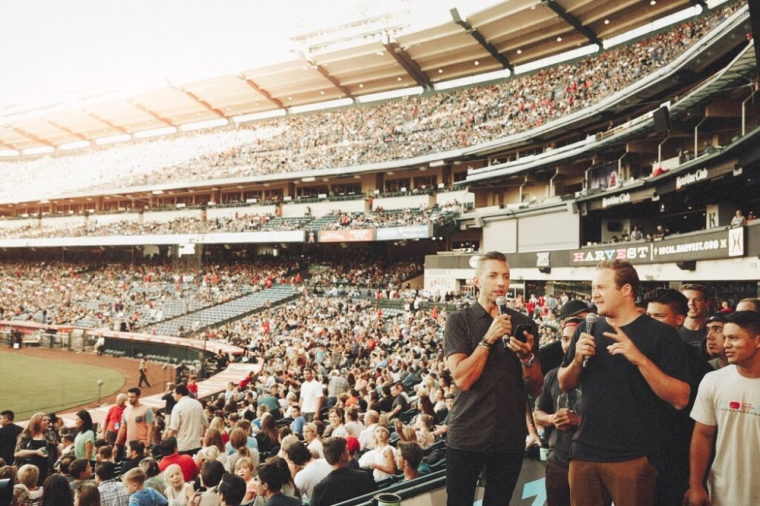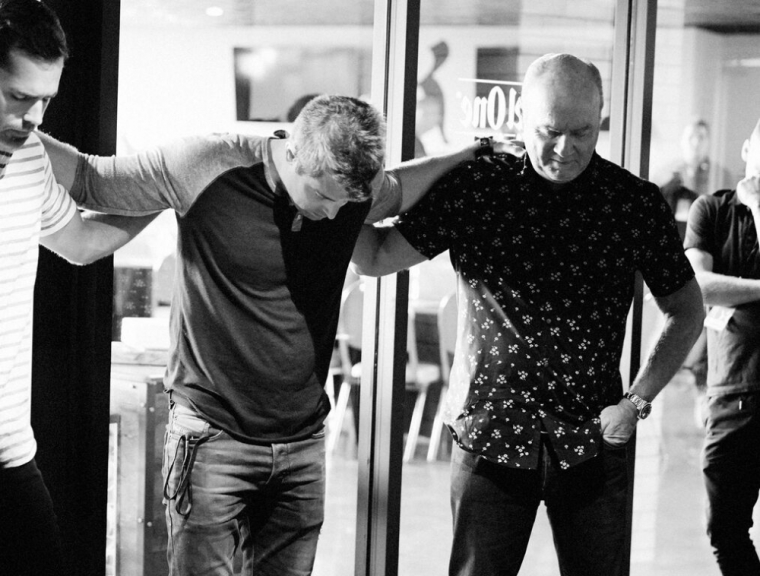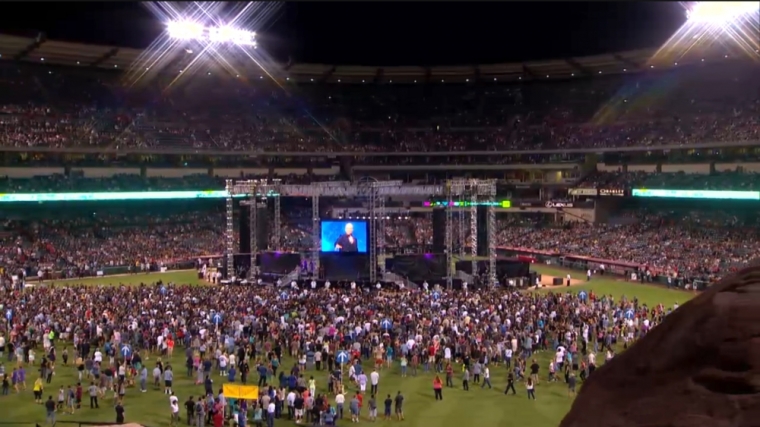 View Photos
In his last nightly message at the 26th annual SoCal Harvest Crusade on Sunday, evangelist and Pastor Greg Laurie urged tens of thousands of Californians to realize that life passes too quickly, and that they needed to repent without any delay, rather than "have an affair," as the Ashley Madison website suggests.
"You can't ignore the Resurrection of Jesus Christ from the dead," Laurie said as he began his message titled "Hope for the Afterlife," speaking at the packed Angel Stadium in Anaheim in southern California on Sunday night. Harvest Crusade organizers told The Christian Post that 32,000 people attended the event in Angel Stadium on Sunday night, and 3,488 people made decisions for Christ that evening.
In His Resurrection, Jesus changed human history, said the senior pastor of Harvest Christian Fellowship. "And His Resurrection can change your history tonight."
Laurie explained that "when Jesus died on the cross, He conquered sin, but when He rose from the dead, He defeated death."
We are not comfortable talking about death, he told the crowd.
Laurie quoted Arnold Schwarzenegger as saying that he is angry with death because it comes so suddenly and finishes everything that you do on Earth.
"Death makes God angry, too," Laurie said, explaining that this is why He sent His Son to die on the cross and rise again to defeat death. "Death is defeated. Death died when Christ rose."
Life passes very quickly, the megachurch pastor warned.
It can be said that those who are 15-year-olds, they are at 10.30 a.m. in their lifespan, for those who're 20, it's 11.34 a.m.; for those who're 25, it's 12.42 p.m.; if you're 30, it's 1:51 p.m.; if you're 35, it's 3 p.m.; for those who're 40, it's 4 p.m.; if you're 45, it's 5:15 p.m.; if you're 50, it's 6:25 p.m.; if you're 55, it's 7:34 p.m.; if you're 60, the time is 8:42 p.m.; if you're 70, it's 11 in the night, the pastor told the crowd.
"But the afterlife goes on and on," he stated.
Once we die and enter the afterlife, we can't change our destination, Laurie stressed. "You can decide tonight where you will spend your eternity, but once you die, there are no more chances."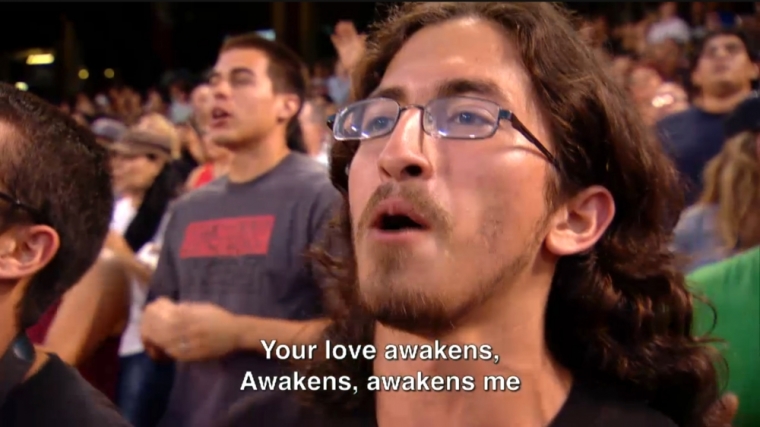 The Bible says that we live once and then comes the judgment, he said. "Every sin you've ever committed is recorded."
Laurie mentioned the Ashley Madison website, which is designed for people to have extra-marital affairs and whose tagline is: "Life is short. Have an affair." It gives anonymity, so that no one can find out, Laurie said. But now, when the information about who all had their accounts with the site has come out after it was hacked, people are seeing it differently, he added. They now recognize that, "Life is short, so repent and get right with God because everything is recorded."
Laurie added, "A secret sin on Earth is an open scandal in Heaven."
Our sins can either be confessed and forgiven by God, or they can "remain unconfessed and you'll have to face the ramifications," he warned.
The good news is that God can forgive as well as forget all of your sin, if you ask Him to, the pastor went on to say. "No one's good enough to get into Heaven." At the same time, there's no work bad enough that can keep you from Heaven, he added, provided you have been forgiven through Jesus Christ.
"I believe that all roads lead to God … but there's only one road that would lead to Heaven, that's Jesus Christ," Laurie stated.
Just as he did in his two previous nightly messages, Laurie explained what needs to be done.
First, you have to admit that you're a sinner, for all have sinned and fall short of the glory of God, he said. "You can be forgiven of all of your sin tonight."
Then, you have to acknowledge that Jesus died for your sins on the cross, Laurie said, quoting John 3:16: "For God so loved the world, that He gave His [a]only begotten Son, that whoever believes in Him shall not perish, but have eternal life."
You must also turn from your sin, Laurie added. As the Bible says, repent and be converted, he said. Repenting involves changing the direction, instead of running away from God, running toward God, he explained.
Then you must accept Jesus into your life, Laurie said. Being a Christian means having Jesus in your life as your Savior and Lord, he added, urging the people to invite Jesus to come into their hearts.
Laurie announced that 7,000 people accepted Christ publicly over the first two nights of the Harvest Crusade. Thousands more came forward to pray to receive Christ on Sunday night.
Founded by Laurie and Pastor Chuck Smith, the Harvest Crusades began as a one-time evangelistic outreach at the Pacific Amphitheater in Orange County in 1990 before later moving to Angel Stadium of Anaheim, where it has become the longest running annual outreach in U.S. history, according to Harvest Ministries.
Around 540,000 people have indicated they have accepted Christ through Harvest Crusades since the annual event began.