Liz Truss: 7 things to know about the UK's new Prime Minister
Initially opposed Brexit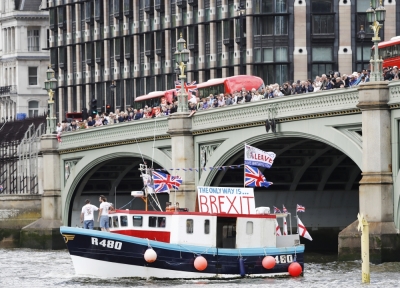 In 2016, while Truss was secretary of state for Environment, Food and Rural Affairs, she opposed Brexit, which sought to have the U.K. leave the European Union for various reasons.
Weeks before the referendum on Brexit was held, Truss gave a speech before the Food and Drink Federation's annual dinner in which she touted the benefits of staying in the EU.
"I think the British people are sensible people. They understand fundamentally that economically Britain would be better off staying in a reformed EU," she stated at the time.
"I'm very grateful for the Food and Drink Federation publicly coming out and saying that. Of course, the National Farmers Union have also come out and said that. I think getting that message across is really important in the next few weeks."
In an interview with the BBC last December, however, Truss explained that she had since changed her mind and "would have voted for Brexit" in "retrospect."
"Because I think it has given us huge freedom and flexibility as a country we didn't have before," she said. "And in particular on foreign policy, we now have the ability to coordinate our development policy or trade policy, our defense policy and our diplomacy together."