Louisiana Flooding Map, Update: Historic Disaster Kills 3, Thousands Rescued (Video, Photos)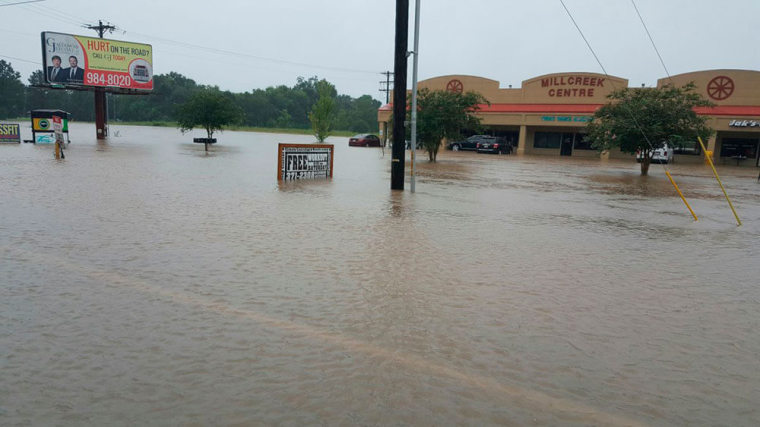 View Photos
Torrential rainfall along the U.S. Gulf Coast has caused "historic" flooding across central and southern Louisiana, killing at least three people. Thousands of people have been rescued, and the governor has declared a state of emergency even as more rain is expected over the weekend.
Gov. John Bell Edwards, who had to leave the Governor's Mansion in Baton Rouge due to a flooded basement, told reporters Saturday that at least three people had died and more than 1,000 people had been rescued from homes, cars and trees. He called the floods "unprecedented, historic," according to The Associated Press.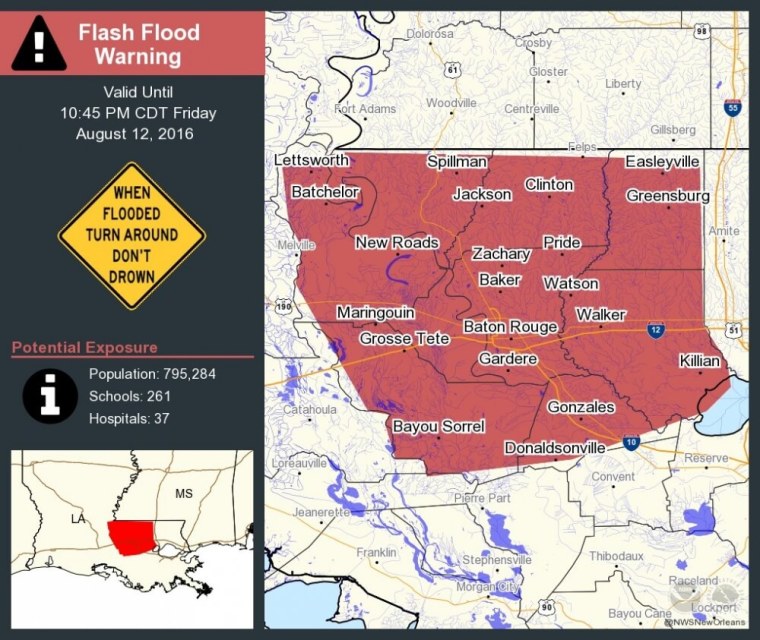 An elderly man drowned after slipping and falling in high waters amid heavy rain in East Baton Rouge Parish; another man died when his pickup truck was swept off a flooded highway and submerged underwater in St. Helena Parish, and a woman was recovered from the Tickfaw River also in St. Helena Parish, according to ABC News, which said crews were working to rescue yet another person in the same parish, though they expect this person may have also died.
The Amite and Comite rivers are both expected to set new flood level records, according to the Weather Channel. "It's going to get a whole lot worse before it gets better," its meteorologist Tom Moore said.
In Livingston Parish, where more than 20 inches of rain fell in 24 hours, Sheriff Jason Ard said 2,000 people had been rescued, and more were awaiting help.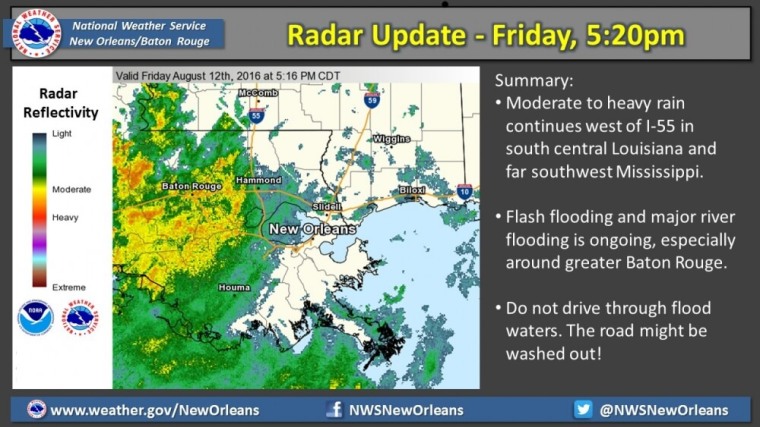 Shanita Angrum, a resident of Baker, Louisiana, who was rescued, said she found snakes in the water while she was trying to reach dry ground. Her 6-year-old daughter and her husband were also rescued. "Snakes were everywhere. The whole time I was just praying for God to make sure me and my family were OK," she told the AP.
"This is certainly not over. The rain continues to fall in the areas that have been most impacted already. This is a very slow-moving, low pressure system," Edwards said. "Because these are record floods, we don't know how wide the water is going to get in these areas."
The National Weather Service also issued flood watches for parts of southeastern Texas through Sunday evening and extended its flash flood warning further west in Louisiana until Sunday morning, according to NWS meteorologist Andrew Tingler, Reuters reported.
Alabama is also struggling with heavy rainfall.
Forecasters maintained a flash flood watch and flood warnings for eastern regions of Louisiana, including Baton Rouge, Tingler was quoted as saying.
Parts of Louisiana had more than 20 inches of rain by late Saturday, and another several inches are expected on Sunday in some locations, he added. "The heavy rainfall is not going to be as widespread as it has been over the last day or two."
The state of emergency will stay in effect until Sept. 10. "We are in constant contact with local officials and first responders, and assistance is already on the move to affected parishes," Edwards said in a statement Friday. "The most important thing to remember is to obey road signs and to constantly monitor the news for updates to ensure everyone's safety. Every available resource will be used to assist citizens as this situation continues to unfold."