Maine Church Vandalized With Swastikas Allegedly for Gay Marriage Stance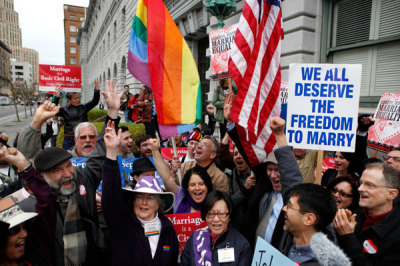 Stockton Springs Community Church in Waldo County, Maine, has been vandalized with swastikas spray-painted on its front door and on two signs on its lawn, supposedly for the church's support of traditional marriage.
"I was shocked and horrified when I arrived at the church this morning and saw swastikas painted all over our property. Clearly, those who want to redefine marriage also want to redefine tolerance," said Pastor Steve DeGroft. "Our congregation has taken a loving and respectful stand for traditional marriage in our community, but those who disagree want to silence and intimidate us. We can't be apathetic, and can't be bullied. I urge all Mainers to go to the polls today and Vote No on Question 1."
Pastor DeGroft refers to the vote in Maine on Nov. 6 regarding the legalization of same-sex marriage, which was passed. Stockton Springs and other churches have urged people to support the traditional definition of marriage as union between one man and one woman, but their efforts were not enough on Election Day, as voters in Maine, Minnesota, Maryland and Washington State all approved adding same-sex couples to that definition.
Carroll Conley, co-chairman of Protect Marriage Maine, who campaigned in support of traditional marriage, said in a statement that they had worked with Stockon Springs and Pastor DeGroft , who regularly spoke out from the pulpit against Question 1, posting signs urging voters to oppose the measure, and emailing members of the congregation urging them to support traditional marriage.
As to the spray-painted swastikas, Conley noted that their campaign signs were also regularly stolen and vandalized elsewhere around the state, so such a property attack is not entirely shocking.
Waldo County Sheriff's Deputy Ben Seekins has said to the Portland Press Herald that an investigation will be launched into the vandalization of the church's property, and confirmed that he has seen the spray-painted signs himself.
"That was my first thought when I saw it," he said when asked whether he believes the church was targeted for its stance on traditional marriage.
Gay Marriage Passed by Voters in Maryland & Maine