Maine Now Among States That Allow Boys to Use Girls' Bathrooms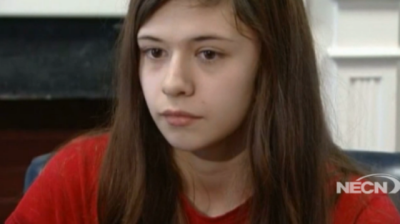 Barring transgender boys from using the girls' bathroom is a violation of Maine's Human Rights Act, according a state Supreme Court ruling last month.
The Maine Supreme Judicial Court ruled 5-1 that banning transgender boys from using girls' bathrooms violates their rights, in a decision from a 2009 lawsuit brought by the family of Nicole Maines' and the Maine Human Rights Commission.
In Doe v. Regional School Unit 26, the court found that a public school in Orono was in the wrong when it required then fifth-grade transgender student, Nicole, to use a faculty unisex bathroom instead of the girls' bathroom because a boy, who did not identify as transgender, twice followed her into the girls' bathroom, citing that he should have the same right.
According to the court, faculty at Asa Adams Elementary School in Orono were supportive of Nicole's gender identity in the third, fourth and fifth grades, and even encouraged her transition.
During a meeting with Nicole's mother and school staff in September 2007 before Nicole's fifth grade year, it was decided by all that it would be best for Nicole to continue using the girls' bathroom, and that she would be allowed to use the staff bathroom "in the event that her use of the girls' bathroom became 'an issue.'"
Because the bathroom controversy garnered "significant media attention," Nicole was required to use the staff bathroom during her fifth grade year, despite the Maines' objections, and had to do the same when she reached the sixth grade at Orono Middle School.
Subsequently, after Nicole's sixth grade year, the Maines family moved to another part of the state where she attends a private school.
On Jan. 30, five years after the suit was filed, Nicole, 16, and her family are elated that the highest court in the state has ruled in her favor.
Melissa Hemey, an attorney for RSU 26, told WMTW that although the district lost its case, the decision will benefit all schools in Maine because, "This is an issue that 10 years ago was rarely raised, and now it's raised regularly. Getting guidance around that and having policy is going to be really important because it is an issue all of the states and all over the country."
California and Colorado have faced similar cases, with California's passage of AB1266 last year, which is a law that will allow K-12 transgender students to participate in sex-segregated sports programs and use shower and bathroom facilities consistent with their gender identity.
In California, however, a conservative coalition group called Privacy for All Students says it has gathered enough signatures to put a referendum on the state ballot in November that would overturn the law that was expected to go into effect on Jan. 1.
The group needed 504,760 signatures to get a referendum on the ballot, and obtained well over 600,000 signatures, which state officials are validating.
"This law was never about the children. Legislators listened to special interest groups to come up with a law that was both unbelievable and devastating for the privacy of all children," said Brad Dacus, president of Pacific Justice Institute, a nonprofit legal organization that is fighting the law and a member of the coalition established to repeal the law, Privacy for All Students.
The first ruling in the nation regarding transgender students using school bathrooms associated with their gender identity was decided last June when the Colorado Civil Rights Division found that a first-grade student should have been allowed to use the girls bathroom at an elementary school in Fountain, Colo.
The Colorado Civil Rights Division ruled that Coy Mathis, a transgender 6-year-old who identifies as a female, has the legal right to use the girls' bathroom at his elementary school. The ruling concluded that the Fountain-Fort Carson School District 8 created an unnecessary situation in which Mathis would be subject to harassment when it barred him from using the girls' bathroom.
Steven Chavez, the division director for the Colorado Civil Rights Division, wrote in his decision, that prohibiting Coy and telling him "that she must disregard her identity while performing one of the most essential human functions constitutes severe and pervasive treatment, and creates an environment that is objectively and subjectively hostile, intimidating or offensive."
Peter Sprigg, a senior fellow for policy studies at the Family Research Council, told The Christian Post in an earlier interview that if a parent is faced with a situation in which their child is enrolled in a class where a student dresses according to their gender identity, and not their sex at birth, they should teach their child to treat everyone with compassion and respect.
That being said, Sprigg added that parents have the right to file a complaint if they are concerned about their child being exposed to the genitalia of the opposite sex in a private setting, such as a bathroom or locker room.
"Bathrooms are not really at the heart of the issue," he asserted. "Essentially, society is being forced to affirm a clear, physical, biological falsehood – the idea that someone with healthy male sex organs and normal male chromosomes can become a female, and vice versa. We are being told that when there is a conflict between a person's objective biological reality and their subjective feelings, it is the body that needs to be 'fixed.' This is utterly bizarre, and we should not be afraid to say so."
Sprigg added: "We have a society that is in rebellion against the created order itself – denying the immutable reality of one's biological sex, while declaring that one's subjective sexual feelings (i.e., 'sexual orientation') are what is innate and immutable. Unfortunately, LGBT activists have been so successful in establishing ideological hegemony over the professions of psychology, psychiatry, and increasingly, all of medicine, that when a child has gender identity problems, it is difficult to find competent counseling to help overcome, rather than solidify, these problems."
In his opinion, every part of that family-building process is either confused, disrupted, or forestalled altogether when a person denies their own biological sex.
"Social, psychological, and physical cues about sex (male and female) are among the first things a child learns in the developmental process. When confusion about sex and sex roles is introduced by a classmate, a school, or society as a whole, it can only disrupt that process," Sprigg said. "Since God made us male and female, such confusion may cause a child to doubt the goodness of God's created order. And family relationships are all rooted in the complementarity of male and female, who commit to one another in marriage, become 'one flesh' in the sexual and social union, and conceive, bear and raise children as the fruit of that union."