Maintaining Faith in the Most Violent Country in Africa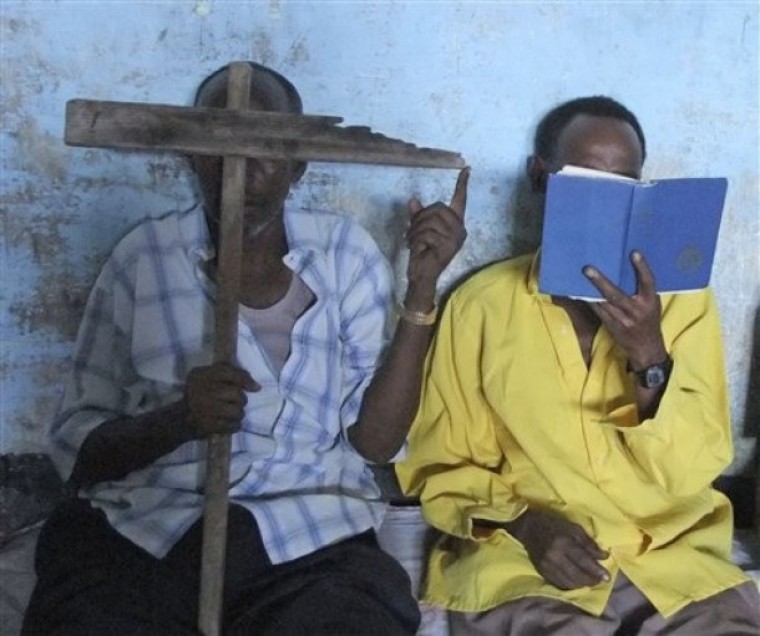 With his head down and his hands between his knees, Abdullahi, leaned forward in the chair slowly recounting a heartrending story of how his wife and children had been stolen from him.
The moment – what he described as the most "heartbreaking" in his life – came at the hands of Somalia's close-knit clan structure. Abdullahi and his wife Hani have been married many years and though they have four children of their own, they have adopted five more. With nine children aged thirteen to two their life was full and happy. That is until almost twelve months ago when Hani's family learned that she and the children had decided to follow Abdullahi's Christian faith. Hani's family arrived and in dramatic fashion literally stole away Hani and the nine children and for almost a year have virtually excluded them from all outside contact. A dark cloud of pain was evident as Abdullahi shared the raw reality of separation, a father barred from the lives of his own children, and of returning each night to dusty toys, a cold bed and an emptied home.
Yet with resolve in his voice Abdullahi looked across the room and said, "This is my prayer, 'Lord will you give me joy? I am trying to be the light and the salt. And when those who know what has happened to me, how my family has been stolen away, ask, how can he have joy, I will be able to share with them about Jesus.'"
Abdullahi and his family are part of a small but growing underground community of Christian believers in Somalia. Alongside Shia Muslims, as religious minorities, Christians face tremendous pressure, societal resistance and outright fear. As noted in the recently released USCIRF report, "although conversion is currently legal in Somalia, it is not accepted socially." Some experts rank Somalia second, only behind North Korea, as the most difficult place in the world to be Christian. In a country of ten million, there is exactly one legally allowed church and there are reports from earlier this year of Somalians suspected of converting to Christianity being beheaded.
Christians are far from the only ones suffering in what may be the most violent and failed state in Africa. In 2017, Freedom House scored Somalia with the lowest possible marks for political rights and civil liberties while the country is ranked twelfth in the world by the United States Holocaust Memorial Museum as most likely to experience state-led mass killings. The Global Peace Index ranks Somalia 159<sup>th out of 163 countries while Transparency International's Corruption Perceptions Index gives Somalia the absolute lowest score.
These challenges are resulting in a large exodus with roughly one million, or ten percent of the population, having fled as refugees and another ten percent internally displaced. In terms of mass refugee production, Somalia only fares better than Afghanistan, Iraq, South Sudan and Syria.
And now the specter of famine stalks this beautiful country. In 2017, 40-60 percent of all livestock have already died in the northern and central areas while the number of children who are malnourished has increased 50 percent since January 1 to 1.4 million. 275,000 children "have or will suffer life-threatening severe acute malnutrition in 2017."
Less than three weeks ago I was in Somalia on behalf of the 21<sup>st Century Wilberforce Initiative and this last week met with his Excellency, Ambassador Ahmed Awad, the Somalia Ambassador to the United States. While expressing gratitude for famine support, Ambassador Awad noted that one of the most meaningful tools for substantive engagement could be for a nomination of an Assistant Secretary of State for African Affairs. He is right.
The situation in Somalia is grim and there are little prospects for significant improvement in the short-term, though an Assistant Secretary of State for African Affairs would help. Christians are far from the only ones suffering but in a country where the provisional constitution declares, "No religion other than Islam can be propagated," they are particularly vulnerable.
One mother we met, for example, had been abandoned by her family and was despondent over the distinct possibility of no longer being able to cover the school tuition for her six children. After quickly calculating the costs, the total for all six children to receive an education was $600 a semester. This now seemed hopelessly out of reach.
Men and women of faith alike described famine at the edges, family abandonment, being followed by authorities, and the challenge of restricted religious freedom and only occasional communal worship. But they also described something else: hope and determination.
As Abdullahi himself concluded, "Do not pray for an end to the persecution because without it we would die. But pray that the Lord will give us the courage to stand through it." Perhaps we should also add a prayer that all those suffering will live to see a brighter tomorrow.
Elijah M. Brown, Ph.D., is executive vice president of 21st Century Wilberforce Initiative.