Man Who Found $25,000 in Book Sends Money to Hero Who Saved His Life as a Child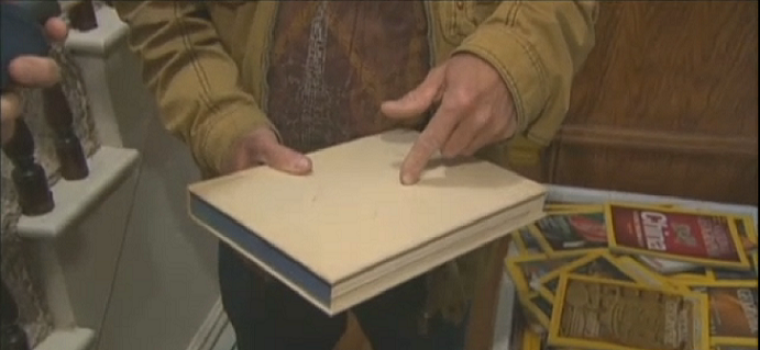 Although he's not rich, a Brazilian immigrant who found $25,645 in cash stuffed in a hollowed-out book at a recycling facility in Wellesley, Mass., last fall gave away a significant portion of it, including a lump sum to a man who saved his life as a younger person in Brazil.
Carlos Valaderes had been identified in the media only by his first name as he sought to find the owner of the money he found at the Wellesley Recycling and Disposal Facility.
Since the deadline he set for someone to properly make a claim to the cash, however, Valaderes fully revealed himself for the first time in a Wellesley Townsman report on Thursday and talked about what he did with the money.
"I'm not a rich guy, but I don't need all the money," said Valaderes. who found the money inside a copy of My Favorite Things. The book was left in a trash container and he sought the Townsman's help in finding the rightful owner of the cash but no one came forward to claim it. "I'm a person who likes to give to other people," he noted.
The first person who came to Valaderes' mind was a man who helped save his life in Brazil 30 years ago. He rewarded him with a gift of $5,000 from the cash he found for helping to save his life when he had a hunting accident.
He said he visited the man earlier this year after locating him on Facebook. He also donated iPads to the man's children.
Valaderes also paid $2,100 for English lessons for two teenage girls in Brazil. Although Brazilians speak Portuguese, he said the ability to speak English will help them make a better life.
"You learn English…you have a better life," he said.
He also gave $1,200 to the Fellowship of Catholic University Students, which does missionary work around the world according to the report.
For their help in getting his children to summer camp when he could afford the cost, Valaderes will do free landscaping work for the Boys and Girls Club in Marlborough and will use $1,000 from his finder's stash to purchase materials other associated expenses.
He says he will be using about $5,000 to travel to Brazil for his mother's 79th birthday and get much-needed dental work, while about $6,000 will go toward his children's college education.
He further noted that some $4,000 which will be kept safely until a need arises.