Manny Pacquiao Fired by Nike After Christian Boxer Calls Gay People 'Worse Than Animals'
Manny Pacquiao Fired by Nike After Christian Boxer Calls Gay People 'Worse Than Animals'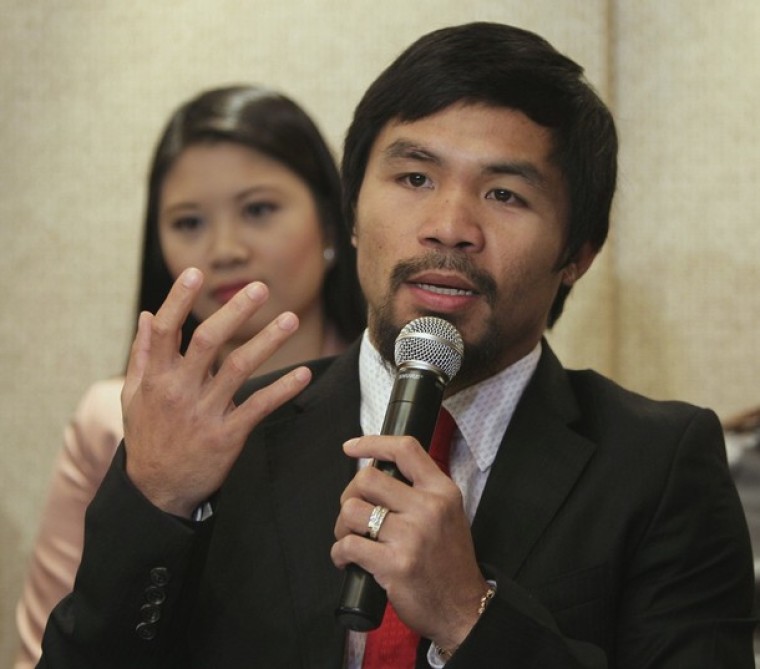 Sportswear giant Nike has terminated the contract of Manny Pacquiao after the Filipino Christian boxer made a controversial comment calling gay people "worse than animals."
"We find Manny Pacquiao's comments abhorrent," Nike said in a statement, according to BBC News on Thursday.
"Nike strongly opposes discrimination of any kind and has a long history of supporting and standing up for the rights of the LGBT community."
Pacquiao, the first boxer in history to win ten world titles in eight different world divisions, is also running for a Senate seat in the Philippines, said in an interview with Filipino station TV5:
"It's common sense. Will you see any animals where male is to male and female is to female?
"The animals are better. They know how to distinguish male from female. If we approve [of] male on male, female on female, then man is worse than animals."
Pacquiao later apologized for any offense he might have caused, however, and wrote Tuesday on Twitter: "I'm sorry for hurting people by comparing homosexuals to animals. Please forgive me for those I've hurt. God Bless!"
In a similar post on Facebook he added that his comments were made based on his belief on the Bible:
"I still stand on my belief that I'm against same sex marriage because of what the Bible says, but I'm not condemning LGBT. I love you all with the love of the Lord," he wrote.
And on Instagram he wrote: "I rather obey the Lord's command than obeying the desires of the flesh. I'm not condemning anyone, but I'm just telling the truth of what the Bible says. The truth from the Bible is what changed me from my old ways."
He also quoted from 1 Corinthians 6:9, where he said: "Or do you not know that wrongdoers will not inherit the kingdom of God? Do not be deceived: Neither the sexually immoral nor idolaters nor adulterers nor men who have sex with men."
Boxing promoter Frank Warren told BBC Radio 5 that the consequences for Pacquiao are going to be very serious, however, and predicted he is going to have trouble getting sponsorship again.
"Pacquiao's certainly lost any type of sponsorship. That's all finished. No one's ever going to sponsor him again," Warren said.
"The majority of the fans will be totally abhorred about what he said, but that is going be the test - how many people decide they want to watch him fight."
Pacquiao is scheduled next to fight American Timothy Bradley Jr in Las Vegas in April.
The world famous boxer often talks about his Christian faith in both his sporting and political careers. Back in January, Pacquiao took time to preach before a group of pastors in Davao city.
"Thank you Lord for the privilege to preach to the pastors today. We are humbled and honored to share Your Word," Pacquiao wrote after his speech. "Declare His glory among the nations, His wonders among all peoples."