Manny Pacquiao Follows Jesus' Footsteps in Israel, Renews Faith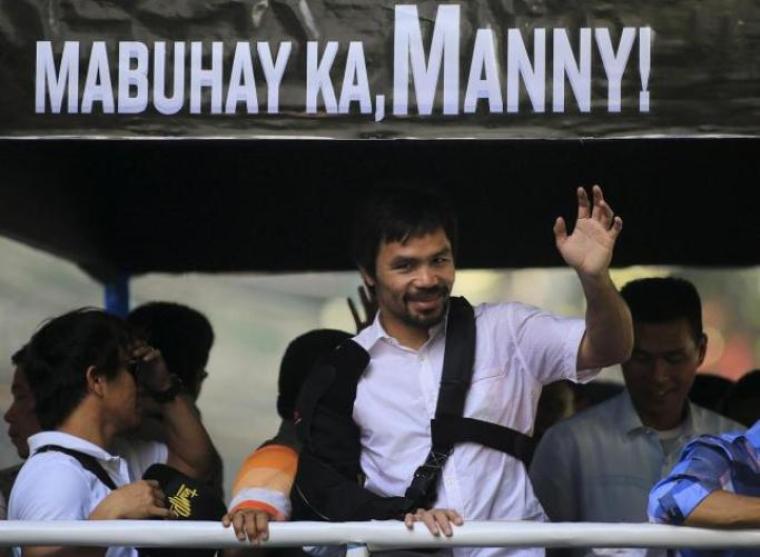 It took a trip to the Promised Land to remind Manny Pacquiao of the importance of faith and obedience to God.
Pacquiao, the 36-year-old Filipino world champion boxer and politician, is touring Israel for the fourth time this week with wife Jinkee Pacquiao. While there, the pair have been sharing pictures on social media and reflecting on their faith.
In an image posted on his social media accounts the Filipino pugilist sat in an area that had once been frequented by Jesus. Although Pacquiao did not name the exact location, he revealed the impact that the experience had on his faith.
"Sitting in the place where Jesus taught the people everyday. Reminding me that we must be faithful and obedient to Him and enable us to be save," (SIC) Pacquiao wrote on Instagram. 
"We must follow Him thats how we can really say we believe God. John 8:47 [47] Whoever belongs to God hears what God says. The reason you do not hear is that you do not belong to God."
In another image, Pacquiao visits Capharnaum, known as "the town of Jesus," along with the Mt. of Beatitudes where Jesus delivered the sermon on the mount.
"Nice to be in the Mt. of Beatitudes and Capharnaum the town of Jesus, to know more about God ..., " Pacquiao wrote before quoting Scripture. "Luke 8:10 NIV[10] He said, 'The knowledge of the secrets of the kingdom of God has been given to you, but to others I speak in parables, so that, though seeing, they may not see; though hearing, they may not understand.'"
While Pacquiao's trip to Isreal seems to have given the fighter a renewed sense of faith, he has been vocal about his spiritual beliefs for some time. After undergoing surgery to repair a torn rotator cuff last May, Pacquiao decided to forego doctors and rehabilitation programs in order to rely on God and the sea for healing.
"I'm fine. It's God's work," Pacquiao told The Philippine Star of his recovery process last summer. "I never saw a doctor. I never did rehab. All I did was to swim in the sea as often as I could. The salt water healed my wound."
Eric Pineda, Pacquiao's business manager, credited the Christian fighter's faith for his miraculous progress only a few months after surgery.
"Manny has strong faith," Pineda said in The Philippine Star report. "God did it. And all that swimming in the sea helped. Now, there's talk of his comeback fight."
After news broke that it could take some time for his shoulder to heal, Pacquiao spoke to The Christian Post about focusing on his spiritual well being.
"I keep meditating on the (Bible) verse Romans 8:28: 'And we know that all things work together for good to them that love God, to them who are called according to His purpose,'" Pacquiao previously told CP.
The fighter also previously spoke about the importance of Christian athletes using their platforms to share their faith.
"I think every Christian athlete should be open about their relationship with the Lord, as well as every believer. That is what the Bible commands," Pacquiao told CP. "When I am vocal to others about my faith and my hope of eternal life, it helps those fans of mine and those who watch me to know they can also have a hope."