Manny Pacquiao to Miss USA at Miss Universe Pageant: What Would You Say to Global Terrorists?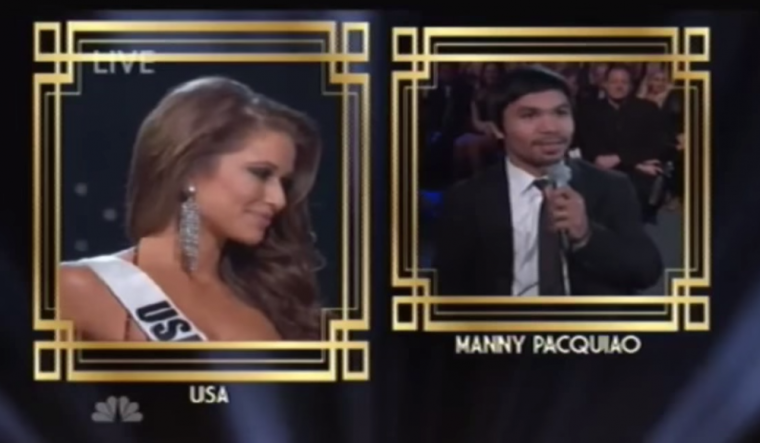 Sitting as a celebrity judge on Sunday night's 2015 Miss Universe beauty pageant in Miami, world-renowned Filipino, Christian boxer and politician Manny Pacquiao asked Miss USA what she would say if she was given the opportunity to speak with "global terrorists."
As the final five contestants in the pageant were tasked with answering a question from a celebrity judge, whose name they picked randomly out of a hat, Miss USA, Nia Sanchez, went first and selected Pacquiao's name from the hat.
Most questions at beauty pageants ask what contestants think about world hunger, education and other pressing humanitarian issues, and in that vein, Pacquiao questioned Miss USA on one of the biggest underlying global threats to civil society.
"If you were given 30 seconds to deliver a message to global terrorists, what would you say?" Pacquiao asked Sanchez.
Sanchez, a 24-year-old from Las Vegas, gave a somewhat predictable and vague response by saying that she would promote "peace" and "love" throughout the world.
"If I was given 30 seconds to give a message to the global terrorists… I would just say that, you know, I know as Miss USA, I can always spread a message of hope and love and peace," Sanchez explained. "And so, I would do my very best to spread that message to them and everyone else in the world."
Unfortunately for Sanchez, her response to Pacquiao's question was not good enough to propel her to victory in the pageant. Pacquiao and the rest of the five-judge panel, which also featured Donald Trump, selected Miss Colombia, Paulina Vega, as the winner of the pageant and crowned her as the 63rd Miss Universe. Sanchez finished as the first runner-up.
"Tonight was perfect. I must say I felt all the prayers and took in all the advice. I fully lived every moment and enjoyed every single second," Sanchez said after the pageant. "I am so grateful for this beautiful experience."
Although she was not crowned Miss Universe, Sanchez said she is at least at peace with knowing that she is "exactly where God wants [her] to be."
"It was one of the best nights of my life! I am so proud to have had the chance to represent my country on the biggest and best pageant stage in the world. I am happy and at peace because I know I am exactly where God wants me to be," she explained. "The future is looking very bright."
For Miss Colombia, the pageants that led up to the 2015 Miss Universe were her first experiences in appearing in beauty pageants. Being a newcomer and having already won the most prestigious crown when it comes to beauty pageants, the 22-year-old business administration major said this will be her last Miss Universe Pageant, the Daily Mail reports.
"It will be a dream come true to represent the woman of today," Vega said. "A woman that not only cares about being beautiful and being glamorous, but also cares about being professional, intelligent, hard-working person."