Marilyn Hickey's 'Night of Healing' Rallies Over 400,000 in Pakistan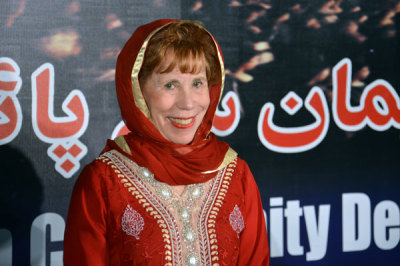 Evangelist and Bible teacher Marilyn Hickey believes in modern-day miracles through God's healing power and shared with The Christian Post her latest prayer initiative in Karachi, Pakistan, which exposed over 400,000 people to Jesus Christ. 
Karachi is one of the largest – with an estimated 18 million residents – and most dangerous cities worldwide. The metropolitan has seen long-standing ethnic, political and religious tensions within sects of its population. Regardless, Hickey, a Colorado resident, shared that the January trip was her sixth visit to the predominantly Muslim nation.
The 80-year-old told The Christian Post that she had been traveling to Pakistan since 1995 and has a "great heart" for the people. According to Hickey, her healing meetings draw huge audiences, with about 75 percent of them Muslim attendees. She explained that she first teaches about one miracle of Jesus – sharing his healing power.
"Then I pray for everything," Hickey said. "I have them stand and put their hand on their head and pray for everything [things plaguing their lives – diseases, etc]."
Following the prayer, audience members who notice a significant difference in the state of their afflictions are urged to come forward and give testimony to the miracles they experienced. Hickey revealed that one man, who had a tumor behind his ear, reportedly had the cancer disappear following the prayer.
"So they come and testify," she stated. "And I acknowledge that it's in the name of Jesus I pray. I say, 'Jesus healed you.'"
Hickey told CP that the greatest miracle she witnessed was when Christ came into her life. "When I was 16, I prayed. That was the greatest miracle of my life. I invited Jesus to come in, to be a part of my life, and to forgive my sins."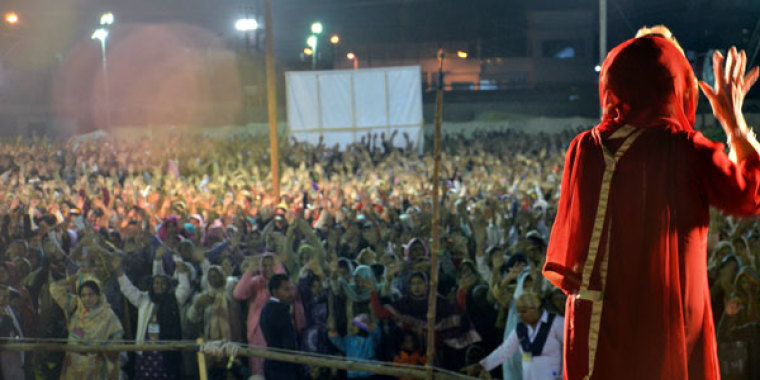 According to the ministry leader, this latest meeting was two years in the making. The first night of healing saw 75,000 in attendance, the second 130,000, and the third night had over 210,000 people.
Regarding the trip, Hickey said the crowds were bigger and there were more "created miracles." She pointed out that despite Karachi being such a dangerous place, these healing meetings were the most productive.
Dr. Ishrat Ul Ebad Khan, the governor of Sindh province who was critical in securing permission from the Pakistani government for the event, invited Hickey to meet and pray with his family. Hickey shared that she spent 90 minutes praying and taking pictures with the group.
"He said, 'I'd like to be your friend. Can I text you?' I'm so touched by this, by the favor. Only God could do that."
A Pakistan Christian Post interview with Mr. Nazir S. Bhatti, President of the Pakistan Christian Congress, revealed that Christians comprise 13 percent of the country's population.
Despite the crises and factions of radical Muslims killing Christians, Hickey says there are very strong political parties working for peace. She stated, "It's touching to me how they are. They don't want their nation to go under. They want to have peace.
"For Christians it's not easy, but there is religious freedom – a lot [in comparison to other Muslim nations]."
The American evangelist revealed that upon landing in Pakistan she was greeted with flowers, and the crowds of people gathered were chanting "Alleluah, Alleluah." Hickey relayed that no one seemed to be afraid of attending the meetings.
"The proof is in the pudding," said Hickey in regards to the criticism and those who may doubt that any healing took place during the rallies. "If you're having crowds and miracles like that, with people being transformed in the name of Jesus [there's no question].
"I don't go in there to convert. I can't convert anyone. I go to help [people] have encounters with Jesus. There are always going to be people who think you shouldn't do anything spiritual, but I don't think you can let [that deter you]."
Marilyn Hickey has traveled to 124 countries during her ministry. Her book, Your Pathway to Miracles, gives a detailed account of her experiences.